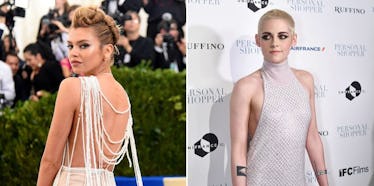 5 Adorable Things To Know About Stella Maxwell's Relationship With Kristen Stewart
Nicholas Hunt/Getty Images for Huffington Post and Dimitrios Kambouris/Getty Images
Though both ladies tend to keep their private lives, well, private, slowly but surely the media and world have been catching on to how totally in love and adorable Victoria's Secret Angel Stella Maxwell and actress Kristen Stewart really are.
Recent photos surfaced of the two enjoying a joy ride together in New Orleans and looking so effortlessly cool while snagging iced coffees in Los Angeles.
We don't know much about their relationship, but we do know it looks pretty good from here.
Here is what we know.
1. They Are Super Private
It's hard trying to dig up the logistics of how and when Stella and Kristen met, but we do know rumors have been circulating since 2016.
In January 2017, The Sun reported the two were seen smooching in the back of a car during a trip to Milan, which was one of the press' first hard copies of evidence that the two were totally official.
2. Their First Big Night Out Was At An After-Party For The 2016 Met Gala
Mmmhmm. That's how I meet all my romantic partners, too.
From what I can tell, this may be where it all began. At the time, Kristen had recently ended her relationship with previous girlfriend and singer St. Vincent, so being spotted with Stella leaving the afterparty was a big deal. 
In the following months, Stella traveled to visit Kristen on set, notably joining her in Savannah, Georgia, where Kristen was filming the psycho-thriller, Lizzie.  At the time People reported the two "were having fun."
3. They Live Together, For The Most Part
Though Stella keeps an NYC apartment – because let's be real, what supermodel wouldn't? – US Weekly reports she spends most of her time in Kristen's Los Angeles home.
A source close to Stella reported that while they are both very busy with their separate careers, they, "try to be together when they can." The insider added, "Kristen really likes her."
I mean... I would hope so if you're living together, but I'm not a Hollywood person, so what do I know about famous relationships?
4. Stella Really Is That Sexy All The Time
Even when it's time for bed.
The 27-year-old Victoria's Secret Angel enjoys the perks of having her wings, and recently revealed she doesn't turn down the sexy just because it's time to hit the hay. The New York Post reports Stella said,
I really love the laced-up bralette to wear to bed ... It's sexy and has a nice detailing that's a little different. And it gives you nice cleavage. And I love blue. It's nice to have a pop of color in your wardrobe. Especially for lingerie. It's a little sexy.
Right. My oversized Mountain Dew T-shirt does the same.
5. Even President Donald Trump Can't Keep Them Down
One of my favorite moments of SNL history is when Kristen Stewart hosted and gave a big ol' "I'm gay" shout-out during her monologue.
Why does this matter? Oh, because Donald Trump raked Kristen for cheating on her boyfriend at the time, Robert Pattinson, like, a lot, on Twitter.
But don't think for one minute that kept her down. Kristen gave a hilarious monologue explaining how totally uninterested she is in backlash for who she is dating, proving her and Stella are rock solid.
These two are as adorable as they come, and while we hope they give us more details soon, it just makes me smile to know there are two, totally gorgeous, bad*ss babes out there, somewhere, enjoying iced coffee and thinking, "F the patriarchy."
Ah, true love.
Citations: Stella Maxwell and Kristen Stewart appear to confirm their romance as they're spotted kissing in the back of a car (The Sun), Kristen Stewart and Model Stella Maxwell Are Dating: Source (People), What Stella Maxwell wears to bed with Kristen Stewart (The New York Post), Kristen Stewart Has Moved In With Girlfriend Stella Maxwell (US Weekly)