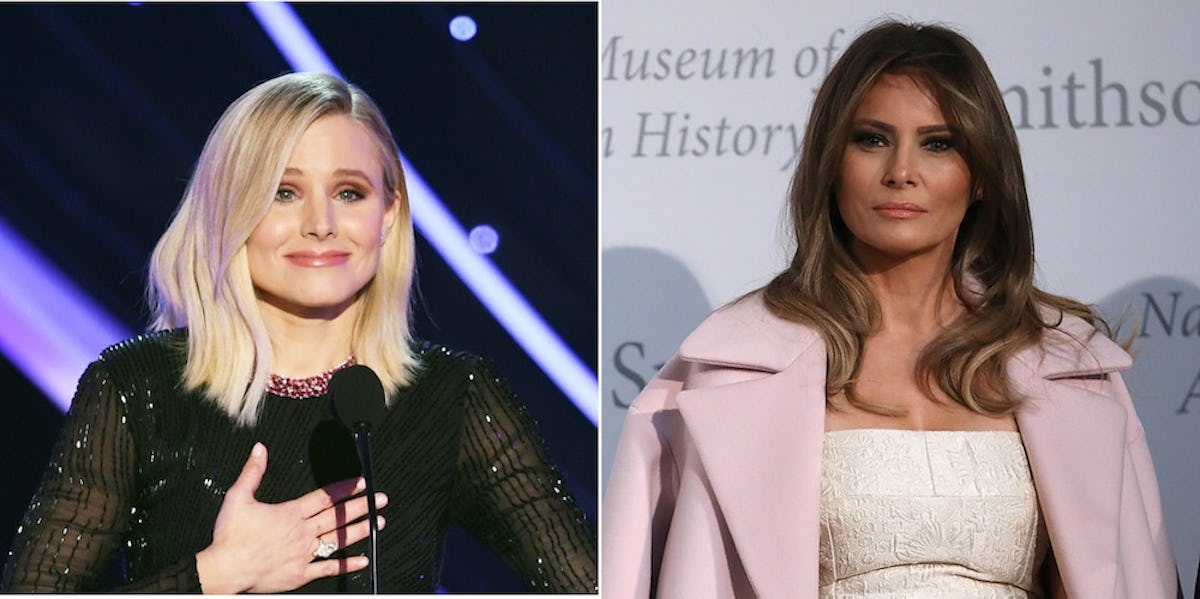 Kristen Bell Threw Some Shade At Melania Trump At The SAG Awards & We're Here For It
Kevin Winter/Getty Images Entertainment/Getty Images // Win McNamee/Getty Images News/Getty Images
Hollywood-based awards ceremonies walk a fine line between stating their opinions and trying not to offend. Everyone is aware of the perceived liberal bias; everyone is aware that their viewers and fans at home don't always share their opinions. But since the 2016 election, it's been a little bit like a dam has broken. Trump jokes are now simply part of the American landscape, like apple pie and Apple iPhones. But no awards show has had jokes quite like those at the 2018 SAG Awards. Host Kristen Bell brought the shade for Melania Trump on Sunday night and it was epic.
Bell didn't waste time making the first Trump joke, though hers was subtle. She called herself the First Lady to host the SAG Awards... and then said her platform as First Lady would be cyber-bullying, a knock on Melania's chosen "cause," considering that her husband is one of the worst offenders on Twitter.
And yet that seemed to be it for most of the evening. This year's ceremony has been surprisingly politics free, though there have been many references to Time's Up, and the emphasis on women has been remarkable. But that's partly why the Trump jokes have been on the down low, and the only one Bell did referenced Melania instead of the president. It seems like the goal of the night was to talk about the women, in all facets.
Last year was a Trump extravaganza — Julia Louis-Dreyfus even used her acceptance speech to passionately speak against Trump's travel ban. One of the reasons for this is that the SAG Awards are freer than, say, the Emmys to openly mock Trump, because they're just not as big. The show is only two hours and airs on basic cable TNT (and TBS), instead of on a major broadcast network.
It's also the mood of the room. Unlike, say, the Oscars, where someone getting political on the stage might elicit shocked gasps from the enormous theater, the SAG Awards are a far more intimate affair. Everyone in the room is a member of SAG-AFRA. It's a dinner awards presentation, with actors clustered together in a small ballroom, rather than in a proscenium theater with tiers and tiers of nosebleed seating. In other words, the sense is that everyone in the room are friends, and they get it.
That's why we wind up with moments like last year's rant by David Harbour, after the Stranger Things cast won the award for Best Ensemble in a Drama Series. There's a bit of alcohol and irritation at Trump's latest tweet, and suddenly, the actors are in front of a mic, there's a camera, they have an audience, and it all just pours out.
The mood in the room last year was positive, except where Trump was concerned. There was still a lot of anger over Hillary Clinton's loss, Trump's win, and the feeling that the country had just encountered a setback. This year is different. Bell was deliberately keeping things positive in all angles, and on topic. That topic is the elevation of women in their industry.
In that kind of room, why would anyone want to bring up the president? It would be intrusive and a reminder of someone who doesn't respect women. Why include the ghost of someone who stands against everything that Bell and SAG-AFTRA are working to achieve this evening with their focus on female actors in every visible role?
So that might mean a lack of David Harbour outbursts and meme'd Winona Ryder faces from this year's show. But in an atmosphere where the #MeToo backlash has started to take hold, what we really needed was a night not to think about the president, and instead focus on the women who are standing up and saying Time's Up.