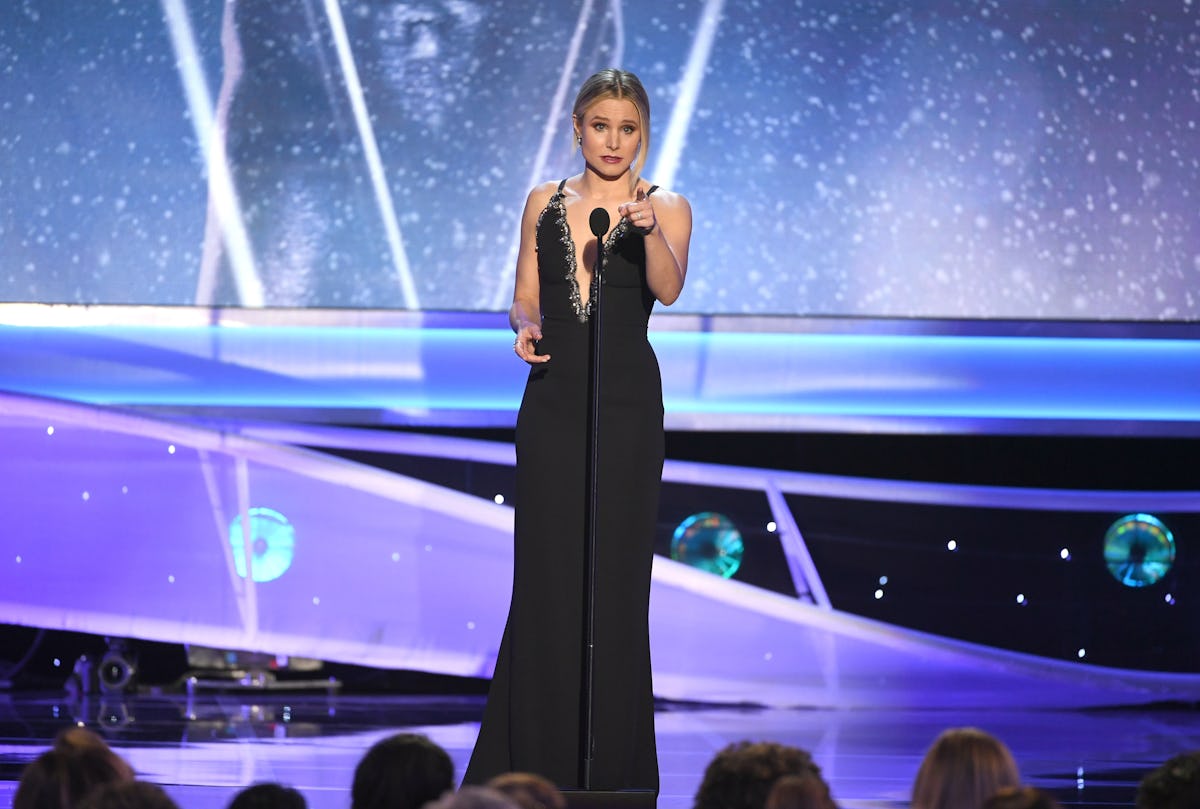 Kristen Bell & Dax Shepard's SAG Awards Moment Was Easily The Best Part Of The Show
Kevin Winter/Getty Images Entertainment/Getty Images
Fans of Kristen Bell were slightly distressed this evening when she walked the red carpet alone. Her relationship with husband Dax Shepard is a fan favorite. They even famously delayed their marriage until California passed legislation legalizing same-sex marriage. But perhaps because this was such a big night for Bell, she arrived and walked the press line alone this evening. Fans were not to be completely disappointed, though. Shepard was, in fact, there at the ceremony, and Bell wasn't going to a funny moment between the two get away. In fact, Kristen Bell and Dax Shepard's SAG Awards moment was one of the funniest of the night.
One of the reasons that Bell and Shepard's relationship is such a great love story for fans to "ooooh" over is the differences in their upbringings. Bell was famously brought up very Christian — a good girl whom we could all respect and look up to. (It was one of the things that made her turn in Veronica Mars so great, and one of the meta things about The Good Place that makes it work.) Shepard, on the other hand, was not exactly a good guy or anyone's idea of Prince Charming. And yet, their opposites attract routine still works.
It's also what makes their SAG Award moment work as well. At first, it seems Kristen is talking up the love of her life, saying she'd "like to take a minute to gush over one of [her] very favorite people." And then, things took a swift turn:
She continued,
A multi-hyphenate by definition, actor, writer, director, and producer, this very special buddy of mine is talent personified and has always embodied openness and sincerity — not so hard on the eyes either. Ladies and gentlemen, Greta Gerwig.
This works on so many levels, and not just because of the last-minute swap away from Dax Shepard to Gerwig. As fans of awards season will recall, the big controversy at the Golden Globes was the lack of women nominated for Best Director, an oversight that only became louder and more glaring as Gerwig's directorial piece, Ladybird, walked away with win after win.
While the Golden Globes had Time's Up, the SAG Awards have instead chosen to highlight women actors who are currently working throughout the program. Bell is, of course, the host — the first host of the show ever. Though, it's not lost on anyone that, in a boys' club of hosts from other awards programs, SAG-AFTRA chose a woman to be their first host for the show. Every awards presenter this evening is also a woman, across all categories. The only time men have been up on stage all evening is either to introduce a clip from their "Outstanding Performance by a Cast in a Motion Picture" film or when they win a category.
So far, Bell has done an amazing job as host. Though she started off with a light Trump reference, in general, she has not been the type of host to cause waves, get too political, or do a good-natured insult fest. She did, however, make one small crack at the SAG Awards' traditional opening, replacing the "And I'm an Actor!" tagline with "And I'm a Narciss..." before stopping herself. It's been a fairly straightforward performance. It's working.
The show has felt cheerful, yet it still takes itself seriously, a night for actors to congratulate their own. And Bell's moment with Dax Shepard is part and parcel with all of this — a day to talk about those we love, those we respect and those who work so hard in the industry. And yes, we're going to make sure we're highlighting women while we're doing so.