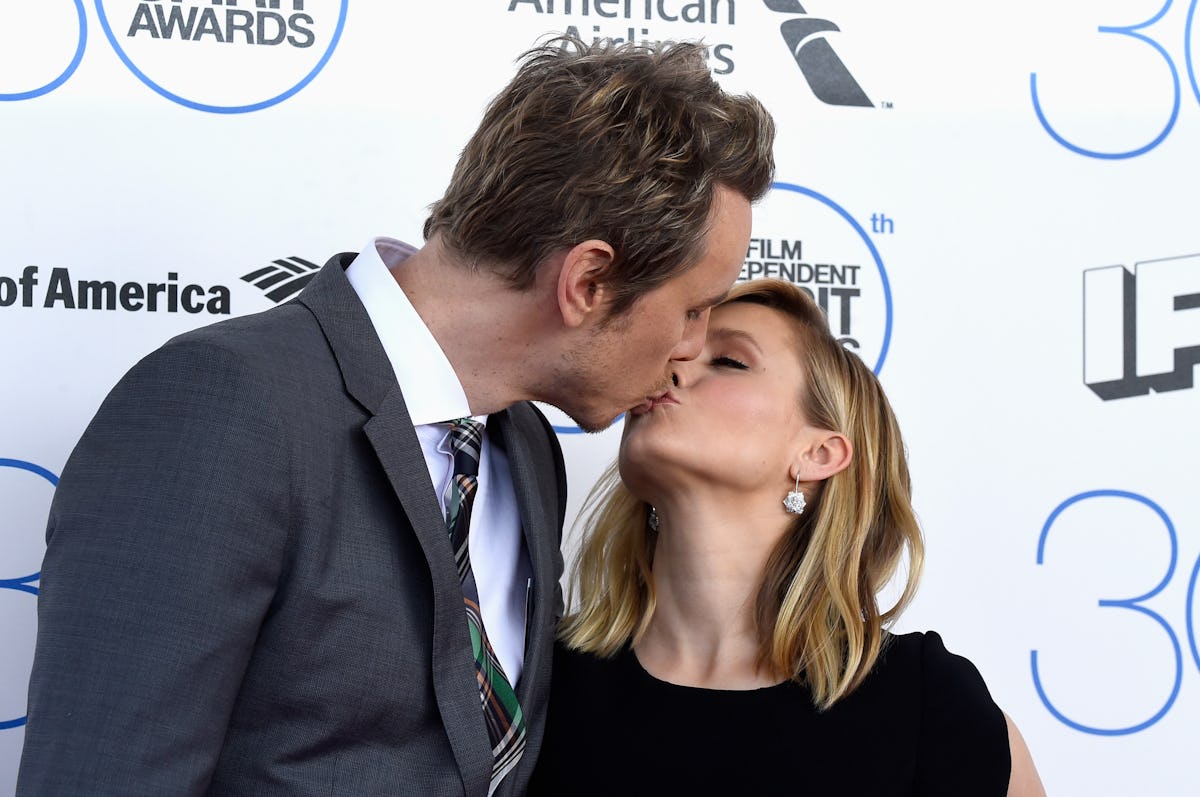 Kristen Bell & Dax Shepard Slammed A Tabloid's Sexist Joke In The Funniest Way
Frazer Harrison/Getty Images Entertainment/Getty Images
Much to my dismay, I can't relate from firsthand experience to the trials and tribulations of being a celebrity. But, as an outsider looking in, I can definitely say that the many ridiculous rumors spread about my romantic relationships would probably get under my skin. That's why I really love it when celebs step up and clap back at any outlandish allegations made about them. For instance, Kristen Bell and Dax Shepard's quotes about Star magazine claiming a source told them Bell is trying to "spice up their sex life" in order to "save their marriage" are nothing short of sheer perfection.
OK, let me back up a little here and fill you in on exactly what went down. Apparently, a source gave Star a scandalous tip about the Bell-Shepards. According to an anonymous tipster, the couple reportedly "discussed having a threesome and toyed with other kinky things, like S&M and role playing," which Bell reportedly hoped would ward off marital problems. Before going ahead and running the story, the publication requested comment from the couple... which, by the way, is standard practice for journalists.
The reporter sent Bell and Shepard an email with a subject titled, "Kristen Bell comment request." The body read:
Star is working on a story in which a source says that Kristen Bell and Dax Shepard have discussed having a threesome and toyed with other kinky things, like S&M and role playing. Sources say that Kristen believes this is insurance against marital meltdown.
At the end of the email, the reporter added, "If you wish to comment on this story, please reply by 12:00pm EST Thursday, 10/11." Again, good journalistic practice.
But Shepard wasn't too happy about the allegations when he saw the email.
He did decide to comment on the post. But, rather than responding in an email, he decided to clarify things for his fans on his own terms by taking a screenshot of the email and pairing it with the below caption:
The only offensive thing about this bullsh*t story is that @kristenanniebell isn't doing all this kinkiness out of horniness, but rather a desperate attempt to save her marriage. I think we all know Bell is a lot more gangster than that. I'll now give you until 4PM to comment, Star.
A rep for Shepard hasn't responded to our requests for comment. A rep for Bell responded to an Elite Daily request for comment, saying, "[Dax and Kristen's] posts and the comments from the public says it all. People genuinely know BS when they see it and the inquiry from Star is just that BS. Star/American Media constantly ask for comments to their lies and when we give them comments they never run them."
Elite Daily reached out to Star and AMI and has yet to hear back at the time of publication.
I looooove this defense, you guys. Who knows if Bell is really into threesomes and S&M. And, hey, if she is, cool! Good for her! But to assume that the only reason she'd be doing that is as a last ditch attempt to save her marriage? That is not something her hubby would stand for.
Oh, and don't worry. Bell is also more than capable for sticking up for herself. She reposted her husband's Instagram along with the hilarious caption, "Id love to comment, but its hard to talk with this ball gag in!" For those of you who might not have gotten it, that was a joke.
Ah, I know I don't personally know them but I really do love these two so much! Laughing off the haters and sticking up for what's right.
Check out the entire Gen Why series and other videos on Facebook and the Bustle app across Apple TV, Roku, and Amazon Fire TV.
Check out the "Best of Elite Daily" stream in the Bustle App for more stories just like this!