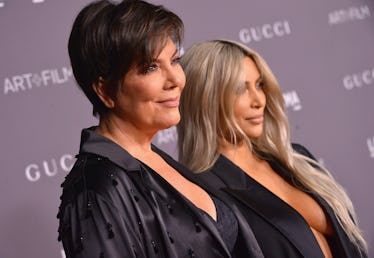 Kim Kardashian Got Real About How Kris Jenner Reacted To Her Doing Drugs
Charley Gallay/Getty Images Entertainment/Getty Images
The world is not past Kim Kardashian revealing on Keeping Up With The Kardashians that she once took ecstasy. Well, twice, actually. As Kardashian put it, she "did ecstasy once and got married" and then she "did it again and made a sex tape." The reality TV star and makeup mogul who is famous for her total lack of substance use (alcohol, weed, or otherwise) casually dropped this news in a conversation with Kendall Jenner and Scott Disick on the Nov. 25 episode of KUWTK. Now, fans are learning about Kris Jenner's reaction to Kim Kardashian doing drugs and how it ultimately convinced her to stop.
Kim popped by E!'s Busy Tonight with Busy Philipps (an old friend of Kardashian's) and revealed all. Philipps and Kardashian both snuggled up on the set's couch and gossiped like two regular ol' gal pals casually cozying up in their individual pantsuits and slicked back ponytails. After some brief back and forth about their children being the same age, Phillips got right to it, asking, "What happened the third time?"
Kim just calmly smiled and replied, "You know, people that were close to me that obviously know that life of mine, they're like 'I can't believe you said that.' And I was like, 'Well, I mean I never really hide anything.'" She added, "If anything, it's just weird to people. I've done ecstasy but I don't drink. I don't smoke weed. I don't do anything. So, it's weird to have done that."
Kardashian also revealed that no matter what she's been through, her mom has always been her biggest confidant. She told Philipps that she'd even come home after having taken the drug and confide in her mom. In fact, Kardashian described a very detailed scene.
"I was so young," she said.
I would tell my mom everything... So, I would come home and be like 'Oh my God, Mom. I did ecstasy last night.' I remember this so clearly, she was sitting on top of the washing machine... We were sitting in the hallway by the garage in the laundry room and she was like, 'One day, you're not going to be able to have babies. You can't do this. You're going to ruin yourself.' She was so upset and she never did drugs... She was just so upset thinking that I was, like, gonna turn into something and just be this crazy drug addict.
According to Kardashian, that was all it took to change her mind about drug use. "I was just like, 'You know what? She's so right,'" Kim said. "I'm so over it. This is so not me, and I never did anything again."
I briefly imagined what this conversation would look like with my own mom, and it would definitely involve a lot more shouting. (The washing machine part might be the same, though.)
Anyway. This is why Kris Jenner should be everyone's mom.
You can catch Kim's full convo with Busy in the clip below and continue to keep up with the famous family on Sunday nights on E!. Duh.