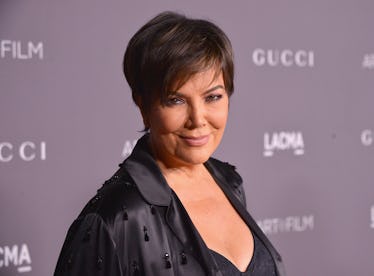 Kris Jenner's Comments About Ryan Seacrest At The Oscars Raised Lots Of Eyebrows
Charley Gallay/Getty Images Entertainment/Getty Images
Sunday marks the biggest night in Hollywood, the Oscars. In previous years, this was a night where we would be talking about dresses and movies and the horse race between Movie A and Movie B and what their chances are to win. But this year, not so much. Since the advent of #MeToo, these high profile award shows and red carpet events have become political lightning rods, as actresses use it to raise awareness of sexual harassment in Hollywood. Things are particularly hairy on E!, with the channel's stars, like Kris Jenner, making comments in support of host Ryan Seacrest.
In a irony of timing, allegations against Seacrest, which were swirling as far back as November of last year, came to a head in the last week, when his former stylist Suzy Hardie's accusations of sexual misconduct were made public in a letter published by Variety.
In response, Seacrest denied the allegations and put out the following statement:
Yesterday, Variety published a salacious story that revealed the specific claims against me for the first time — even though an independent third-party investigator found insufficient evidence to support the claims. Much to my dismay, Variety didn't speak with me or bother to speak with other credible witnesses or even ask for any of the evidence that was obtained during the investigation when offered, all of which clearly challenged the veracity of the claims made against me.This person who has accused me of horrible things offered, on multiple occasions, to withdraw her claims if I paid her millions of dollars. I refused. I have worked extremely hard to achieve my success and I don't take my opportunities for granted. I don't want to accuse anyone of not telling the truth but in this case, I have no choice but to again deny the claims against me, remind people that I was recused of any wrongdoing, and put the matter to rest.
With rumors swirling that actresses might avoid Ryan Seacrest on the Oscars red carpet due to these allegations, Kris Jenner put out a supportive statement on social media on Sunday, letting everyone know her thoughts on the red carpet host.
Fans who might be shocked or confused to see Jenner supporting Seacrest shouldn't be. He's the producer of Keeping Up With The Kardashians, along with all of its various spinoffs.
Jenner is, as fans of the family know, a hard-nosed and savvy business woman. And E! as a whole is clearly standing behind Seacrest on Oscar Sunday, with The Hollywood Reporter reporting that the network has put a 30-second delay on the Live From the Red Carpet broadcast in order to edit out any moments when someone brings up the allegations. In response, E! told The Hollywood Reporter, "As always, we tape multiple sources of content simultaneously to deliver the best possible show, and there are often brief delays between interviews." So by supporting Seacrest, Jenner seemingly wants to be seen as a team player.
Some fans were very disappointed in Jenner's choice to support Seacrest. After all, had her tweet not supported Seacrest, or pointedly left him off, the public opinion on Seacrest could have seriously changed.
Instead, she found herself with a deluge of fans who were calling her out, and Seacrest as well.
The hashtag #SeacrestOUT, for the record, is based on his sign off for years on American Idol and the radio show American Top 40, both of which he still hosts. So far, these allegations do not seem to have had an affect on his career, at least not yet. Depending on how the 2018 Oscars red carpet goes, Seacrest could come out of this without additional controversy, and tweets like Jenner's will help that along.