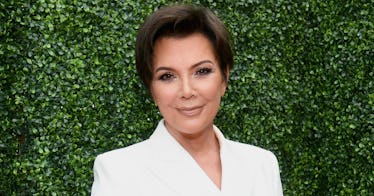 Kris Jenner Got So Real About Cheating On Robert Kardashian & The Details Are Heartbreaking
Emma McIntyre/Getty Images Entertainment/Getty Images
Kris Jenner may be currently basking in the glow of her kids' successes — I mean, Kim Kardashian West is basically a legend and Kylie Jenner is currently gracing the cover of Forbes. How many moms can say that? But the momager who pretty much invented the word "momager" isn't immune to looking back on certain parts of her life with some serious regret. Like that time she cheated on her ex-husband Robert Kardashian. Kris Jenner's comments about her affair with a soccer player while she was still married to Robert Kardashian are actually so sad, you guys. And OMG I kind of wish she could get a re-do.
In an interview for the Fox News Channel series OBJECTified, which aired on July 15, the Keeping Up With The Kardashians matriarch opened up about stepping out on her then-husband. "I did, I did," she admitted. "Which wasn't — nothing I'm proud of."
"When I look back on it now, probably one of my biggest regrets in my life is that that marriage fell apart," Jenner said.
So heartbreaking!
"You do stupid things when you're young and not experienced with relationships," Jenner continued. "And that's not an excuse. That's just to say... that just young and dumb."
Jenner and Kardashian — a lawyer who worked as O.J. Simpson's defense attorney during his high-profile 1995 murder trial, and who died of esophageal cancer in 2003 — were married from 1978 to 1991. They had four kids during that time: Kourtney, Kim, Khloé, and Rob.
"I married Robert when I was 22 years old and I had gotten pregnant on my honeymoon," Jenner explained during the OBJECTified episode. "I had the happiest life you could've dreamt about. But when you're in something, sometimes people think the grass is always greener and that was, like, what I think I went through at some point."
Jenner has talked about her affair before in her 2011 memoir Kris Jenner ... And All Things Kardashian, but it's nice to see her being super-honest here about all the circumstances surrounding it. She even copped to being blindsided and totally devastated when Robert Kardashian eventually filed for divorce.
"It made it real," she explained. "Like, you think you're going to come through this period, I thought, and everything's gonna be OK. And then all of a sudden it wasn't. So, that was really hard for me." Jenner also discussed how the divorce impacted her financially: "I didn't have anything. I went to the market one day and my credit card didn't work ... I'm like, 'I can't even buy a tomato. I gotta figure this out.'"
Obviously, the housewife-turned-businesswoman has come a long way from not being able to afford a tomato. I mean, she could probably buy 500 billion of them today. And maybe that's why it now seems like she's finally made a little peace with her transgression.
"Did I like that choice? No," she said. "But it led me to another place where I then had Kendall and Kylie. So I always have to look back and go 'That was, I guess, unfortunately, the way it was supposed to go.'"
Works for me.