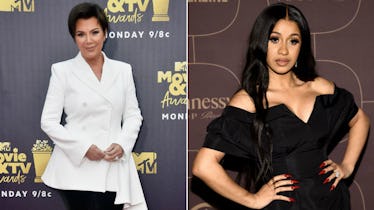 Kris Jenner Desperately Wants To Deliver Cardi B's Baby & It's Weird AF
Frazer Harrison/Getty Images Entertainment/Getty Images | Dimitrios Kambouris/Getty Images Entertainment/Getty Images
Kris Jenner wears a lot of hats. She's a mogul, a momager, and a marketing genius. Could midwife be her next title? Well, if it was up to Jenner herself, then yes. Apparently, Jenner is keen on delivering babies. At least, that's what Kris Jenner's comment on Cardi B's Instagram seems to indicate. The reality star and mogul asked if she could be the rapper's midwife when she delivers her baby in July. And honestly, it's all too weird to comprehend.
This very strange and very unexpected twist came when Cardi posted a lovely video to her Instagram proclaiming how incredibly happy she is in her life right now.
In the video, the 25-year-old rapper and mom-to-be is donning a red dress, a huge mane of curls, and a larger-than-life baby bump. She's dancing around and lip-syncing to her hit song "I Like It".
The caption on the video? "HAPPY! HAPPY! HAPPY!"
So, Cardi is celebrating her life right now and Jenner, it seems, wants to have a small part in that happiness.
"Wait can I be the midwife?? Just thinking this through…" Jenner wrote on Cardi's Instagram post.
Jenner's question is undoubtedly strange and likely a joke, but even so, it pushes some boundaries. Do Cardi and Jenner even know each other? Even if they're the best of friends, it's an odd way to insert yourself into someone else's very personal business.
But you know what? Cardi doesn't seem to mind. She hasn't responded either way to Jenner's midwife proposal. So, it's not that a big a deal after all.
Speaking of proposals, Cardi made a huge announcement just hours before posting the above video on Instagram: she and Offset have been married since September. Isn't that wild?
Yup, Cardi took to Twitter to tell her fans all about her marriage. Here's what she had to say:
There are so many moments that I share with the world and then there are moments that I want to keep for myself! Getting married was one of those moments! Our relationship was so new breaking up and making up and we had a lot of growing up to do but we was so in love we didn't want to lose each other, was one morning in September we woke up and decided to get married.
How sweet!
The rapper even detailed how the nuptials went down. And it was super simple. Just Cardi, Offset, and their love at the center of everything:
We found someone to marry us, and she did, just the two of us and my cousin. I said I do, with no dress no make up and no ring! I appreciate and love my husband so much for still wanting for me to have that special moment that every girl dreams of when he got down on his knee and put a ring on my finger and he did that for me!!
Before dropping this incredible news, Cardi said in her initial tweet that she kept this all to herself because she wanted to have privacy, hence the name of her album:
This why i name my album "Invasion of privacy" cause people will do the most to be nosey about your life .
Well, that's certainly understandable. She's got so much going for her — a husband, a child, an unstoppable career. And now there might even be a famous midwife for her to add to the mix.
Jenner is actually the perfect person to deliver a kid. She's got so many of own, plus there are all those grandbabies she's helped welcome into the world. Cardi would probably be in good hands if she gave Jenner a chance!