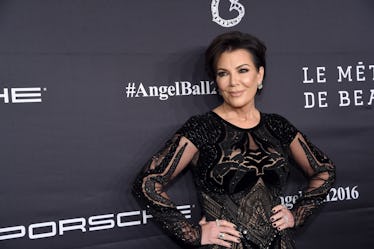 Yep, Chrissy Teigen & John Legend Just Gifted Kris Jenner A Champagne Vending Machine
Jamie McCarthy/Getty Images Entertainment/Getty Images
What would you do if your friends sent you a gigantic champagne vending machine for no apparent reason at all? Well, Kris Jenner knew exactly what to do with such a gift: flaunt it on Instagram. The 62-year-old mom and manager recently shared a pic of the unique gift that John Legend, Chrissy Teigen, and some other friends sent to her. If you're like so many people who love a bit of bubbly, then Kris Jenner's champagne vending machine is definitely on your must-have list. Unfortunately, you can't just go out and buy one of those babies.
Nope, champagne vending machines are super exclusive. So, it makes sense that Jenner would have one. Jenner's personal vending machine is one of the Moët & Chandon variety and there are only a handful of those around the world, at least according to PopSugar. There's actually one located on the 23rd floor of the Mandarin Oriental hotel on the Las Vegas Strip. So, if you want some vending machine champagne, you'd better get on over there!
The Moët & Chandon Champagne Vending Machine apparently dispenses full bottles of champagne, which is really unbelievable and definitely speaks to the extravagant lifestyle Jenner is so accustomed to. I gotta say, I'm kind of jealous!
In any case, Jenner now has one and it's all the rage in Cali at the moment. Jenner posted the following thank you message to her friends (which also included hair stylist Jen Atkin and her husband, Mike Rosenthal):
Umm thank you @chrissyteigen @johnlegend @jenatkinhair @mrmikerosenthal ...When a forklift shows up at my house on Monday morning with a Champagne Vending Machine and an unlimited supply of @moetusa @moetchandon Champagne i am jumping for joy!!! And I'm not gonna lie a little drunk. I LOVE you guys thank you my beautiful friends #ilovechampagne #ilovemyfriends #blessed #luckygirl
A lucky girl, indeed! Very, very few people can claim they have their very own champagne vending machine. Jenner is in pretty good company in this regard. Heather Dubrow of Real Housewives of Orange County fame also has a similar setup, though not exactly the same. Hers is more of a room full of champagne, but you get the idea: unlimited champagne for everyone!
Still, it's a really impressive gift. And it's certainly what you'd expect Chrissy Teigen and John Legend would send to someone like Jenner.
Here's a look at the gargantuan vending machine:
It's perfect for connoisseurs of champagne, which I assume Jenner is. I mean, why else would Teigen and Legend send her this unbelievable gift?
Also curious is the occasion. It's not Jenner's birthday (that's in November) and there aren't any other notable dates looming at the moment, as far as I can tell, so why the gift? Why now?
There's been no word yet on why Jenner was on the receiving end of such an awesome present, but I bet she's not complaining. I certainly wouldn't. Plus, she seems very happy with it, so even if there isn't a specific purpose for the gift, at least she's enjoying it!
Whatever the occasion, Moët & Chandon is definitely going to get some good traction now that Jenner is in possession of their vending machine. Jenner has over 20 million followers on Instagram. That's, like, 40 million eyes looking at it and wishing they had one. I wonder if Moët & Chandon will start selling these machines on the regular? One can only hope!
Needless to say, Jenner will always be prepared whenever she needs a bottle of champagne. Parties, dinners, birthdays, anniversaries, and other special events at the Jenner household will be all set!