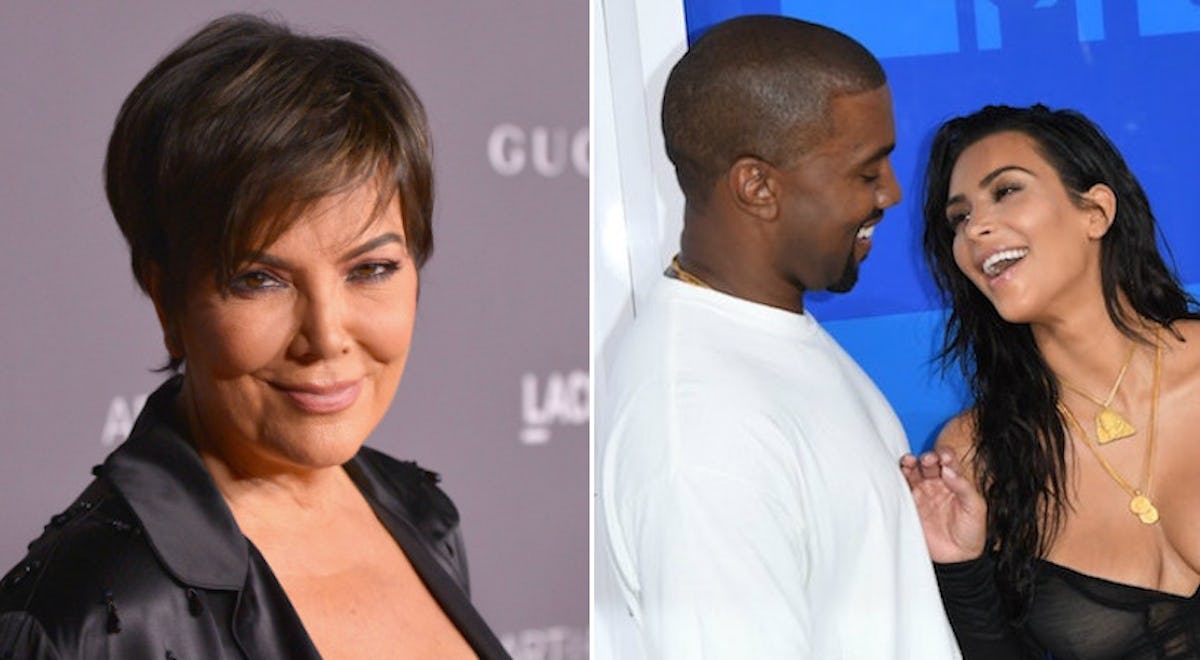 You Won't Believe How Much Kris Jenner Paid To Become Kim & Kanye's Neighbor
GETTY IMAGES
Kris Jenner is known for being close to her children. Her latest move into a new home has gotten her physically closer than ever. Kris Jenner lives across the street from Kim Kardashian and Kanye West, and that makes her perhaps the actual closest mother in history. Besides the proximity, Kris spent a jaw-dropping amount on the new house, but the perks of being across the street from your daughter and grandkids is obviously priceless.
Kris Jenner is the kween so if she wants to move in across the street, THAT MAKES YOU TOO BLESSED TO BE STRESSED. While it seems like a fun novelty that Kris moved next door to Kim and Kanye, she paid a big price tag on a truly incredible house. The reality mama dropped $9.9 million on her new 9,400 square-foot, two-story mansion. A source told E! News about the purchase,
Kris likes to diversify and invest [in real estate], like the whole family does.
Oh, totally. Same, I love to diversify my investments. Finance things. KRIS, CALL ME.
About a mile away from her newest real estate investment is her Hidden Hills mansion. According to E! News, Kris bought that house with Caitlyn Jenner for $4 million, and ended up winning it in the divorce settlement. We all know the Hidden Hills mansion — the one with the iconic black-and-white floor that we have practically grown up in via Keeping Up With The Kardashians.
As for her new home, it's stunning and sits on a hefty 1.28 acres. According to E!,
The house has six bedrooms and seven baths and comes complete with a theater room and a lounge/game room with a wet bar. The master bedroom is adorned with a massive walk-in closet ... a master bathroom with a spa-like tub and its own balcony.
Sounds lovely. I'll be waiting here for my invite to the housewarming party.
It's definitely a home that's made to entertain. The backyard has a gorgeous pool and 10-person spa along with a fire pit and BBQ area (Fourth of July party, anyone?).
Kris works hard, she deserves to splurge on her own oasis. Plus, I'm sure she'll be a huge help once Kim and Kanye's third baby arrives. Kris is always super supportive, but the newest grandchild definitely holds a special place in her heart.
When Kim announced on an episode of Keeping Up With The Kardashians that her surrogate was pregnant, Kris said through tears,
Kim, I'm so happy for you. It's just to be able to do that is great. I'm really happy for you.
It's been an emotional experience. Kim explained,
This particular surrogate, she was the best fit for my family so we just had to go with it and try one embryo ... Finding someone you really trust is really more difficult than you can imagine. … It was maybe a year before we finalized our current situation. She's such a nice person. Like, she's so easy to talk to.
Kim needs all the support she can get right now. She said during an interview with Entertainment Tonight that the surrogacy journey has been difficult due to loss of control and the unknown. She said,
Anyone that says or thinks [surrogacy] is just the easy way out is just completely wrong. I think it is so much harder to go through it this way, because you are not really in control. And, you know, obviously you pick someone that you completely trust and that you have a good bond and relationship with, but it is still ... knowing that I was able to carry my first two babies and not, you know, my baby now, it's hard for me. So, it's definitely a harder experience than I anticipated just in the control area.
Having Kris close by may be a great thing as baby number three arrives in the Kardashian-West house. In the meantime, I hope Kris enjoys her spectacular new home and invites me over soon. PLEASE?
Check out the entire Gen Why series and other videos on Facebook and the Bustle app across Apple TV, Roku, and Amazon Fire TV.