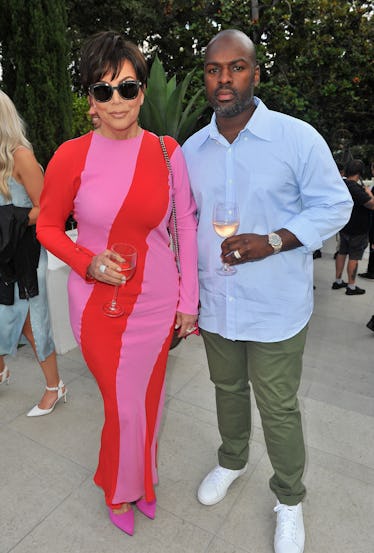 Kris Jenner & Corey Gamble's Recent Body Language Says A Lot About Those Engagement Rumors
Jerod Harris/Getty Images Entertainment/Getty Images
It's really hard to keep up with the Kardashian/Jenner ladies these days, isn't it? And yes, pun totally intended. But between all the babies, the boyfriends, and the beauty products, it can be difficult to keep track of what's been going on. So, since rumors of Mama Kris and her man's potential engagement have surfaced, and we don't yet have confirmation, here's what Kris Jenner and Corey Gamble's recent body language says about their current status, according to experts.
Now, in case you aren't familiar with Jenner and Gamble's relationship, you need to go watch Keeping Up With The Kardashians ASAP. But if you don't have time to sit through 15 seasons, allow me to fill you in.
Jenner and Gamble met in 2014, shortly after Jenner's split from her spouse of 23 years, Caitlyn Jenner. On KUWTK, Jenner managed to downplay her relationship with Gamble for a while. But it quickly became clear that these two were seriously happy, and there was no point in denying it.
So, since Jenner was recently spotted wearing a huge diamond ring on her left ring finger, could the two be engaged? It's hard to say, but body language experts definitely think that Jenner and Gamble are seriously in love, and in-sync.