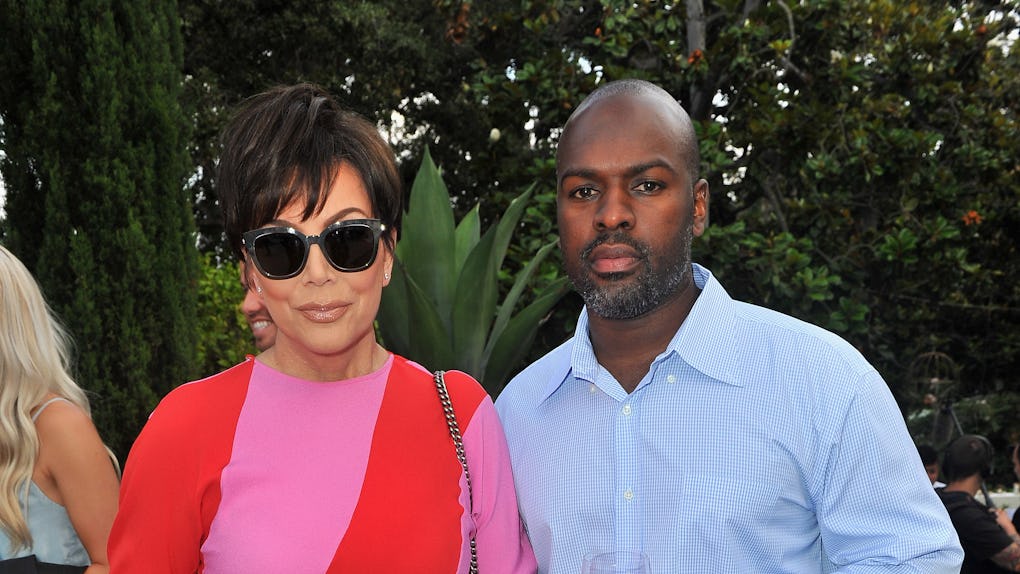 Jerod Harris/Getty Images Entertainment/Getty Images
Kris Jenner & Corey Gamble's Recent Body Language Says A Lot About Those Engagement Rumors
It's really hard to keep up with the Kardashian/Jenner ladies these days, isn't it? And yes, pun totally intended. But between all the babies, the boyfriends, and the beauty products, it can be difficult to keep track of what's been going on. So, since rumors of Mama Kris and her man's potential engagement have surfaced, and we don't yet have confirmation, here's what Kris Jenner and Corey Gamble's recent body language says about their current status, according to experts.
Now, in case you aren't familiar with Jenner and Gamble's relationship, you need to go watch Keeping Up With The Kardashians ASAP. But if you don't have time to sit through 15 seasons, allow me to fill you in.
Jenner and Gamble met in 2014, shortly after Jenner's split from her spouse of 23 years, Caitlyn Jenner. On KUWTK, Jenner managed to downplay her relationship with Gamble for a while. But it quickly became clear that these two were seriously happy, and there was no point in denying it.
So, since Jenner was recently spotted wearing a huge diamond ring on her left ring finger, could the two be engaged? It's hard to say, but body language experts definitely think that Jenner and Gamble are seriously in love, and in-sync.
In February 2018, they seemed pretty relaxed.
At the start of this year, the couple seemed totally relaxed around each other. However, as body language expert Lisa Mitchell pointed out, their body language was telling. In this photo, as with several others, Gamble "has his feet pointed toward Kris, and his torso angled toward her," which shows "that he is attentive to her and his attention is focused towards her."
But, Mitchell also took note of Jenner's body language. She "almost always has her feet and torso facing straight on to the photographers," Mitchell says.
A couple of months later, they seemed just as comfortable with each other, and also fiercely photogenic.
In April, at a red carpet event, Jenner and Gamble definitely brought the love. In this photo, too, Gamble is "leaning toward Kris, not the other way around as you might expect," Mitchell says. "It's clear that Kris is in control of this relationship and is comfortable with a space between them or standing on her own slightly in front of him."
Just in May, they gave off an air of romance and being in-sync.
In May, Jenner and Gamble strolled the city streets looking confident and in love. Of this photo, Mitchell says, "They are walking perfectly in-sync. Stepping with the same leg, equal distance, indicating that they are really connected to each other and on the same page."
Additionally, it's important to note that "they are equal, one not walking in front or behind of the other," which really "indicates partnership," Mitchell says. So maybe they aren't the most overly affectionate in public, but their body language sure indicates a sense of protection and equality.
And in June, they seemed awfully in love.
Just last month, Jenner and Gamble hung out at a carnival. Mitchell seems to think that, in this photo, Jenner seems much more into Gamble than in any of the events pictured above.
"Corey is standing slightly in front of Kris, almost in a protective or blocking manner, this tells me that he's a protector and wants to create space between her and the photographers," she says. "This is also the only picture where Kris' feet are pointed toward Corey, as opposed to pointing straight towards the photographers, indicating she was feeling more connected to him."
Additionally, as body language expert Blanca Cobb told Elite Daily, Gamble "is looking formal with his hands covering what I call his 'pleasure zone,' Kris' body is saying that she's enjoying her man." Cobb continued, "notice how both of their bodies are angled toward each other. And this time, it's Kris' shoulder slightly behind" Gamble's. To Cobb, this means, "she's got him covered...she's supporting him."
Aw, she's supporting him, y'all!
Now, they are definitely feeling the pressure.
In this most recent photo of the pair, neither of them are smiling. But Cobb speculates they "are seemingly balanced as being the support for each other," she says. "In some photos, her shoulder is behind his and in other photos, his shoulder is behind hers. This suggests that they support each other. Very nice to see. With her feet crossed, however, she's feeling a bit uncomfortable. It could be that all the speculation of their relationship is making her feel a bit off."
Or maybe, the fact that Jenner is rocking a big diamond on her left hand in this pic makes her feel uneasy. They hadn't confirmed (and still haven't confirmed) their rumored engagement, so perhaps they wanted to throw off photographers, and thus, a very stoic photo pose for these two.
Maybe they're engaged, maybe they aren't. But according to these experts, Jenner and Gamble's recent body language shows that they're definitely in love, so an engagement wouldn't be too shocking.