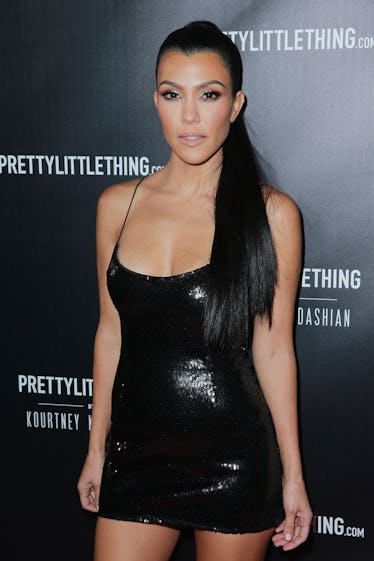 Kourtney K Just Responded To Those Rumors That Younes Bendjima Tipped Off The Paparazzi
Rich Fury/Getty Images Entertainment/Getty Images
Kourtney Kardashian and Younes Bendjima are still at it, it seems. And definitely not in the way you'd expect. Kardashian and Bendjima were spotted for a reunion dinner on Tuesday, Sept. 4, sparking rumors that they were rekindling their romance. But Kardashian has put a swift end to those rumors, as well as some others, by calling them out on Twitter. Kourtney Kardashian's response to rumors about Younes Bendjima is full of attitude.
So, here's what happened: Not only did it seem that Kardashian and Bendjima reunited for a sushi date, but according to sources, Bendjima allegedly tipped off the paparazzi as well. TMZ reports that sources close to the situation said Kardashian's sisters, Kim and Khloé, apparently believe that Bendjima was the mastermind behind the reunion. The reason? To keep his name in the headlines and attached to Kardashian. According to the sources, Bendjima was known to do just that in order to keep the spotlight on him and Kardashian when they were still together. If you were to ask Kardashian what she thinks of these reports, she'd have just one thing to say: "FAKE NEWS"
At least, that's what she tweeted when she got wind of TMZ's report. The Keeping Up with the Kardashians star took to Twitter to express her dismay over all the rumors surrounding herself, her sisters, and Bendjima.
Here's what she tweeted on Wednesday, Sept. 5:
Even though Kardashian is dispelling these particular rumors, this isn't the first time rumors about Bendjima's tense relationship with Kardashian's family have surfaced.
In an Aug. 16 report from People magazine, a source close to Kardashian revealed that Kardashian's relationship with Bendjima had a negative impact on her relationship with her sisters.
"Kourtney was always so private and closed off when it came to Younes, and that really distanced herself from her sisters," the source told People. "Things are fine with them now and I'm sure they'll get even more back to normal now that it seems he's out of the picture for good."
Kardashian's romance with Bendjima apparently took such a toll on her relationships with her sisters that a family feud ensued.
The ups and downs of that feud are currently being played out for fans on season 15 of Keeping Up with the Kardashians. Eventually, the situation lead to an unexpected place: family group therapy. During the session, Kardashian aired her grievances by saying:
I'm here to do this group therapy with my sisters, which I didn't think that we needed. But I think that because we just don't communicate that well, maybe having somebody else guide the conversation could be very helpful … I think generally we just need to learn how to communicate together. And I'm the one who invented 'mean fighting,' just saying the meanest things possible, but I'm just not wanting to fight like that anymore. I don't want to be mean and I don't want to spend my time around people that are mean and putting me down.
So, what's going on right now with Bendjima seems to be calling back to this specific moment in time when the sisters required therapy to work through their issues. With any luck, they'll leave Bendjima and their issues in the past.