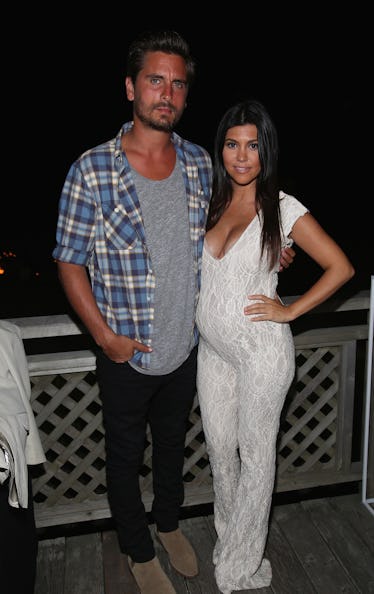 Kourtney K Shared A Photo That Perfectly Captures How She Co-Parents With Scott Disick
Paul Zimmerman/Getty Images Entertainment/Getty Images
If there was an award for best co-parenting in Hollywood, Keeping Up With The Kardashians stars Kourtney Kardashian and Scott Disick would surely be nominated. You can just tell that their three children — Mason, Penelope, and Reign — have two parents who adore them, and make sure that the fact that they are no longer together doesn't affect the love they share with their family. In fact, Kourtney and Scott still hang out together with their children, and I think that deserves a round of applause. And it's clear that they have fun while chilling together, too, and Kourtney Kardashian's photo with Scott Disick and Penelope is actually laugh-out-loud funny (and not just typing LOL funny).
So here's what went down: Kourtney decided to hop on Instagram to show off her and Disick's epic co-parenting skills. In the picture, we see Kourtney in an absurdly gorgeous, skin-tight black dress and sunglasses, striking a pose on (what is presumably) her bed. She looks on fire, and she knows it. But it's what's in the background that's hilarious, because as Kourtney is hamming it up for the camera, we see Disick holding Penelope, looking at something on his phone together in the background. She captioned the post "coparenting" and I truly believe that this is worthy of some sort of award with how subtly hilarious it is:
Werk it, queen!
Even sis Khloé Kardashian commented on Kourtney's photo, writing, "At its finest right hurrrrr," and I agree whole-heartedly.
While the picture itself is all levels of funny, it's actually super sweet to see the family work together as a unit. After the couple's on-again, off-again relationship was finally broken off for good in 2015, we've seen the pair raise their three children together, and it's honestly heartwarming to watch. Even when it comes to holidays, they seem to really nail the whole "family" thing — just like this past Thanksgiving when Kourtney shared a photo of herself with Scott Disick and their three children, and told her fans how thankful she was for her family. She wrote,
I woke up this morning in bed with my children, in the same house as my sisters (minus @khloekardashian 😩😢i miss you), my brothers, the father of my kids, my mommy, my grandma, my nieces and nephew. I feel beyond grateful. Happy Thanksgiving!
Precious.
And, shortly before Thanksgiving, we saw that Disick went on the family trip to Bali, Indonesia, with Kourtney and her little gang:
And let's not forget the time they vacationed together to Hawaii back in 2017, when Kourtney posted a photo of the two of them together, writing, "MOM and DAD back at it again with the coparenting skills":
Honestly, these two are making it work, and I'm here for it.
Our girl Kourtney is even cool with Disick's current girlfriend, Sofia Richie, and was seen for the first time having dinner with the couple on Nov. 4, and then once more on Nov. 16, where she was seen out with Scott Disick and Sofia Richie at ArtLife Gallery's Street Dreams exhibition. Elite Daily reached out to Kardashian's, Disick's, and Richie's respective teams for comment on their Friday outing, but did not hear back by the time of publication.
Clearly, Kourtney and Scott have learned to nail this co-parenting thing in more ways than one. Snaps all around for our favorite former couple!