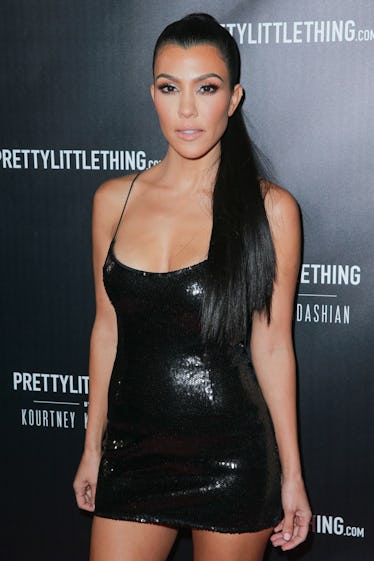 Kourtney K Just Admitted She's "Ashamed" Of Her "Disgusting" Family In An Intense Argument
Rich Fury/Getty Images Entertainment/Getty Images
Kourtney Kardashian has always said she's not interested in the whole fame thing. Ever since Keeping Up With The Kardashians first aired 10 years ago, she's made it clear that she cares the least about the show. She still participates year after year, mind you, but she maintains that she's the least worried about the fame aspect of being a Kardashian (aka the family's entire M-O). The season premiere of Keeping Up With The Kardashians highlighted that when Kourtney went in on her family, saying she's "ashamed" of them. Kourtney Kardashian's comments about the Kardashian family being "disgusting" are some of the most intense words the oldest sibling has had to say about the family throughout the show's duration.
It all went down as a result of the huge fight she and Kim Kardashian got into on the show. The fight, as we all know by now, was triggered by Kourtney's refusal to rearrange her schedule to make more room for their family Christmas card photo shoot and Kim blowing up at her for it. At the end of the day, Kourtney could've budged more and Kim didn't have to be so damn cruel, but they seemed to have gotten over it now. (They did get into a Twitter fight during the premiere on Aug. 5 when the fight aired, but that seemed like they were fighting to get people talking about the show more than anything.)
The fight in the actual episode, and the drama that followed, however, was totally real. "Khloé and I, the last six months, have not been as close," Kourtney said in the episode. "I just feel like I'm constantly being criticized and picked on. In the past, I used to just brush things off, but I just don't want to tolerate it anymore."
The tension is seriously high in this clip from the episode. To be real, Kourtney is being pretty rude in this clip, so her qualms with being mistreated by her family might be misguided at times.
Responding to mistreatment with rudeness isn't a way to get the mistreatment to stop, but it's still true that Kim is a lot more vicious to Kourtney than the other way around (especially in this season premiere).
Their tension came to a huge climax when Kim screamed at Kourtney and called her the "least exciting to look at."
After Kim and Kourtney had their massive fight over the photo shoot schedule, Kourtney says, "I'm not here to be mistreated by my f*cking b*tch family. Kim saying that I'm the least interesting to look at — who even speaks like that? You don't say things like that."
She continued,
You guys just have really different values than me. I choose to be a mother to my three kids. I'm not here looking for another job. I already work enough — more than I would like to. What's natural to me is being a mother. And I don't expect everyone to have the same interests.
Kourtney talked about the fact that people think she doesn't work bothers her because she does work, and she doesn't want to. She'd rather be a full-time mother to her three children. "All everyone f*cking says is, 'What's your job?' If I had enough money, I wouldn't work. I wouldn't do the show," she said, adding, "I would be a full-time mom. That's what I want to do. The guilt I carry every day from not being at home when they get in from school, not doing homework — my kids suffer."
That's when she spilled the harshest comments about her family she's said in a long time. "Honestly, it's like, we have a disgusting family," she said. "I'm ashamed to be a part of [it]. It's just gross." Yikes. Through tears, she said, "I'm not going to be around people that bring me down on a daily basis. I'm just doing my best." Then she revealed that she dreams of moving far away from her family with her kids and said that she's exhausted from pretending that her relationships with her sisters are genuine. "I will move to another state at some point, or another country," she said. "I cannot wait for that day and hopefully just won't have to have these fake relationships."
Kim and Kourtney both flipped the script on this during their Twitter fight, however, saying that no matter what they fight about, they're still "ride or die."
Kim tweeted during the episode, "dont ever get it twisted, me, Kourtney and Khloe are GOOD! ALWAYS!!!! Never question that!" Kourtney followed that up by quoting her sister's tweet and saying, "Unconditional love." I feel like I'm being gaslighted here.