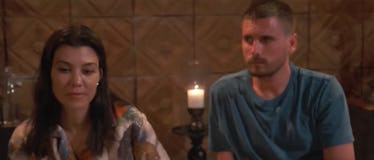 Kourtney Kardashian & Scott Disick's Body Language On 'Keeping Up With The Kardashians' Season 16 Is Tense
E!
Anyone who does, in fact, keep up with the Kardashians knows that the relationship between Kourtney and her ex Scott Disick is very complicated. Although it's only a couple of weeks into season 16, Kourtney Kardashian and Scott Disick's body language on Keeping Up With The Kardashians suggests that the couples' relationship is still strained.
Over the years, Kourtney and Scott have had many public peaks and troughs in their relationship. However, during one of their most recent appearances on the show, their body language suggested that the vibe between them is still tense. Even though both Scott and Kourtney have dated other people since their final breakup in early 2017, we must not forget that he is currently in a serious relationship with model Sofia Richie, and has been for almost two years. We don't know for certain how their respective dating lives affect their dynamic with one another, but it's probably safe to assume that it's not easy to keep the vibes chill. In the season's second episode the couple discusses whether or not it's a good idea to Scott to join their family vacation, and their physicality is very telling. It's interesting to see two people who obviously care for one another trying to work through a difficult past, and here's what experts have to say about it.