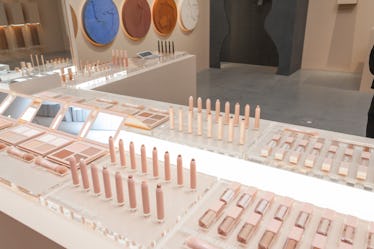 KKW Beauty Is Having A Flash Halloween Sale & It's A Super Sweet Treat
Presley Ann/Getty Images Entertainment/Getty Images
I've got something for you that's better than endless Butterfingers, jumbo-sized Snickers bars, and party-sized bags of Sour Patch Kids. It's an equally sweet treat, but it'll satisfy a very different kind of craving. KKW Beauty's Halloween Sale, which was announced this morning and will last for today only, is offering a special deal that's so good, it's spooky — and I promise it's not a trick.
As revealed on KKW Beauty's Instagram stories today, the beauty retailer is currently having a buy one, get one flash sale on their KKW x Argenis Crème Color Sticks. You can either buy a single stick, which retails for $18, and get one free; or you can buy the entire pack of five, which retails for $80, and get another pack free. This means that, by buying the pack of five, you'll already by saving $10, along with getting another entire pack free. Pretty amazing deal, don't you think?
In case you're not familiar with the product, the KKW Beauty website describes it as "a creamy, blendable, long lasting eyeshadow stick than can be used to sculpt, line and smoke out the eyes." Basically, the product is a foolproof way to infuse your beauty look with a bit of drama, without having to fuss with flaky powders. Thanks to its creamy consistency, it glides on and blends out easily but also promises to stay in place all day. Basically, it's a dream.
Currently, the Crème Color Sticks are offered in five colors: Breakdown, a matte black; Peshosa, a metallic copper; Muyor, a matte burgundy; Comic King, a metallic light gold; and Genis, a matte turquoise. Genis is one of the most head-turning shadow shades I've ever seen and will make you look like a total ice queen (in the best way) this winter. The other shades fit in perfectly to the shimmery goodness that defines holiday beauty, so why not gift yourself a set of them in preparation for all the glam parties you've got coming up?
If you like getting extra creative with your makeup, the creamy shadows can also be layered with other eyeshadows for a more dimensional look, so why not add a KKW Beauty Flashing Lights Pressed Powder (or two) to your cart, too? They'll each set you back $21, but once you take a gander at the incredible glittery shades, I think you'll agree they're more than worth it.
In order to shop the deal, there's no code is necessary — the discount will simply be applied upon checkout. However, you only have until 11:59 p.m. PST tonight, Oct. 31, before the deal expires, so make sure to hop on it ASAP! It's also important to note that the shadows were made in collaboration with Argenis Pinal, who was the winner of season 1 of Glam Masters, which was produced by Kim Kardashian-West. Because of this, only a limited number of them were produced, meaning there's no guarantee supplies will even last until midnight. If I were you, I'd head to KKW Beauty now. Nothing haunts you like the beauty deals you were too late to get in on.