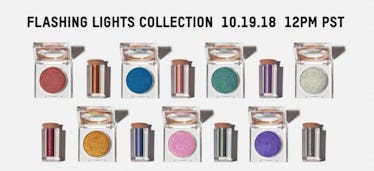 The Difference Between KKW Beauty's Flashing Lights vs. Ultralight Beams All Comes Down To Formula
I know what you're thinking: another KKW Beauty drop? The Kardashians have been bestowing blessings upon blessings when it comes to their cosmetics lines as of late, and in honor of Kim K's birthday, the diva has graced us with yet another heavy-hitter: the Flashing Lights Collection. The whole line consists of pressed and loose pigments in the brand's most rich, vibrant shades to date, but at first glance, you might not note the difference between KKW Beauty's Flashing Lights vs. Ultralight Beams. Similar shimmery formulas and concept right? Close, but no cigar — the Flashing Lights are definitely worth adding to your KKW Beauty collection, especially when you consider why they're so unique from the rest of the brand's lineup.
KKW Beauty took to Instagram a few days ago to announce the newest collection, named after a Kanye West song and created in honor of Kardashian's upcoming birthday on October 21. The collection features seven Pressed Powder Pigments ($21, kkwbeauty.com) and seven Loose Powder Pigments ($17, kkwbeauty.com) in matching shades. According to the KKW Beauty site, all of the shades have a metallic finish and a prismatic, vivid, jewel-toned color: "Freaky" is a true scarlet, "Big Bank" is a warm, golden bronze, "New Drip" is a royal blue, "Flashy" is a bright pink, "Bands" is a statement teal, "Extra" is a bright purple, and "Glass" is a bright silver.
Each product comes in a clear component, packaged in a silver holographic box that gives the line a celestial vibe:
And the colorful shades and intense pigmentation is like nothing the brand has done before:
If you aren't super familiar with the KKW Beauty range, at first glance you might assume that this is just an extension of the Ultralight Beams collection, but in brighter, more statement shades. Granted, the loose pigments sold in the Ultralight Beams Duos ($32, kkwbeauty.com) are more or less the same concept as the ones in this new collection, but those pigments are meant to be used in conjunction with the Ultralight Beams glosses, whereas the new Flashing Lights collection is all about pigments alone.
To make the most of the Ultralight Beams products, one is meant to apply the gloss and then go overtop with the loose pigment; you could definitely use one of the other if you wanted to, but the two formulas aren't sold individually, unless you opt to buy a bundle with every single shade. On the other hand, the Flashing Lights collection presents seven stunning shades of pigment and allows the consumer to pick their preference, whether it be an easy-to-apply, mess-free pressed powder, or the loose pigment they've grown to love after using the Ultralight Beams.
Unlike the Ultralight Beams, which featured a neutral metallics in a half-gloss, half-pigment combination, the Flashing Lights line is all about bold tones and color-packed pigment:
Although, the brand does note that you can mix the new pigments with a gloss similarly to the Ultralight Beams, should you prefer a glossy texture. Really, the options here are endless:
When the products launch on October 19, there will be multiple options for how to buy. Along with the ability to buy single shades of the Pressed Powder Pigments ($21, kkwbeauty.com) or the Loose Powder Pigments ($17, kkwbeauty.com), there will of course be bundle options, since Kardashian knows a lot of us can't resist going big. If you prefer loose pigments, the Loose Bundle ($106, kkwbeauty.com) will be your jam, but if you like the ease of a powder shadow, the Pressed Bundle ($134, kkwbeauty.com) is definitely more your speed. If you're hoping to mix and match, you can always splurge on the Complete Bundle ($240, kkwbeauty.com) and live your jewel-toned fantasy to the fullest.
Now that they've perfected their neutrals, I'm loving that KKW Beauty is taking on brighter, bolder shades, and I think offering a variety of pigment options will help them appeal to more beauty-lovers. Personally, I love a good loose pigment, but I know plenty of people who find them messy and would definitely opt for a pressed pigment any day. Fortunately, there's something for everyone in this latest collection, and I'll be sure to pick up a few of both formulas when the products from on the KKW Beauty site on October 19.