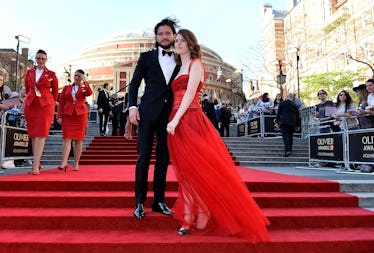 Kit Harington & Leslie Rose From 'Game Of Thrones' Got Married & My Heart Is So Full
Jeff Spicer/Getty Images Entertainment/Getty Images
This may be a hot take, but of one the best forbidden love stories of all time took place on Game of Thrones. Yes, I'm referring to the catastrophic love between Jon Snow, played by Kit Harrington, and Ygritte, played by Rose Leslie. It was beautiful and devastating, and probably the best love story that's happened since Romeo and Juliet. And in case you didn't know, Kit Harrington and Rose Leslie from Game of Thrones got married. BRB, I need a tissue (or five).
Harrington and Leslie's wedding took place at Kirkton of Rayne church in Scotland, on Saturday, June 23, according to People. Honestly, it was everything I hoped it would be. Based off of photos from the wedding, Leslie traded Ygritte's classic fur coat and warm-yet-durable pants for a white lace dress, her bow-and-arrow set for a small bouquet of flowers, and her fur hood for a flower crown and veil. She literally looked like a garden fairy princess. Harrington, on the other hand, sported his classic hair flow, as well as a gorgeous mis-matchy tux. Altogether, it was freaking beautiful and everything I hoped it would be. Like, it ten out of ten exceeded my expectations. The only thing that was missing was Tormund, the White Walkers, and some badass fight scenes. But I guess it's OK those weren't around for the wedding... that would be just a little too much.
After leaving Ygritte, the beautiful "wildling" from beyond the wall (RIP), fans were pretty convinced that Jon Snow truly did know nothing. But after Harrington asked Leslie to marry him back in September, 2017, and once they went through with the marriage in June 2018, it looks like he does, in fact, know some things. She didn't even have to teach him how to do it.
A number of GOT stars showed up to the wedding, per People, including Sophie Turner and Maisie Williams, who play sisters Sansa and Arya Stark on the show. Peter Dinklage, who plays Tyrion Lannister, and Emilia Clarke, who plays Daenerys Targaryen, were also seen in Aberdeen Scotland on Friday, June 21. Aside from celebrating Leslie and Harrington's special day, it was a lovely GOT reunion, and I honestly have so much FOMO right now. Could I maybe get an invite next time, guys? I promise I won't recreate any embarrassing scenes, y'all. I'll be totally cool about it.
After the ceremony, per People, there was a reception at Wardhill Castle, which is nearby in Scotland. Hopefully no White Walkers show up, but sometimes those kinds of things are inevitable.
If you happened to be lucky enough to snag one of the 200 wedding invites from Leslie and Harrington, you'd know that the couple put a GOT tribute on each of the invitations. The couple actually went ahead and put Kit's face on the envelope, and it was sort of legendary. Although it seemed like a silly move — as the couple reportedly wanted to keep the wedding plans a secret — it was pretty hilarious for the couple to do. Well played, guys. Well played.
While I'm basically writhing with jealously from those who got to witness the real royal wedding (aka Rose Leslie and Kit Harrington's), my heart is so full from seeing the photos — and hearing that the cast of GOT made an appearance, of course. The fact that Ygritte and Jon Snow are finally back together literally made my day, and even though their chances of reuniting on the show are nil, I couldn't be happier for the two of them and their endeavors in real life. I'm definitely raising a glass to them and to the entire world of Westeros tonight. Cheers!