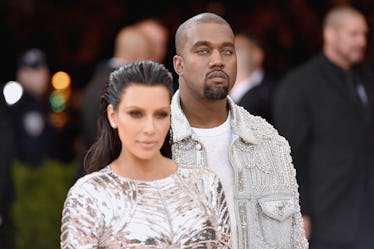 Kim Kardashian Got Super Shady Over This Beef About Drake Contributing To Kanye's Charity
Mike Coppola/Getty Images Entertainment/Getty Images
Usually when you think of Memorial Day weekend, you picture some quality beach time, a tasty cookout, and just an all-out celebration of the first unofficial weekend of summer. Well, it turns out that Twitter wars were first on the agenda this holiday weekend for some of the entertainment world's finest. It all started on Friday night with a song from Drake dissing Kanye West, and then allegations were made by Rhymefest about West's lack of charity. West's wife took to Twitter on Saturday night to set the record straight, and Kim Kardashian's response to Rhymefest's claims about Kanye West hit back hard at the claim that West failed to contribute funds to Donda's House.
Kardashian's blistering tweets were in response to a negative tweet about West from Chicago rapper, Che "Rhymefest" Smith. On Saturday, May 26, Rhymefest asked Drake for money for Donda's House in order "to help the part of Chicago Kanye has Abandoned!" Donda's House Inc. was created in 2013 in honor of West's mother, Dr. Donda West. The tweet came on the heels of a statement on Friday, May 25 from Donda's House that claimed West hasn't contributed to the foundation. Elite Daily reached out to Kanye West's representation for comment regarding whether West failed to deliver on promises of financial support to the organization but has not heard back at the time of publication
Per Rolling Stone, the foundation shared on its website,
We have been unable to secure the financial support of Kanye despite multiple attempts, and despite those early conversations about his plan of support and advocacy for the youth in our programs.
This Twitter plea for money is a result of the Friday night drama that was already in motion between Drake and Pusha T, where Drake apparently invoiced "G.O.OD. Music/Def Jam" for $100,000 after dissing Kanye in his song, "Duppy Freestyle," according to Billboard.
While West hasn't commented on the matter, Kardashian wasted no time slamming the claims from Rhymefest on Twitter. She responded on Saturday night with a tweet that read,
U haven't been right since u got kicked out of the studio in Hawaii wearing fake Yeezy's @RHYMEFEST You're over levergenging Kanye's name & asked Kanye to donate money to u so stop w your fake community politics & lies. Truth is you haven't been able to sustain the foundation.
Before going further, you might wonder how Rhymefest and West are connected beyond these recent claims. According to Hollywood Life, Rhymefest has writing credits on West's tracks, "Jesus Walks" and "New Slaves." Rhymefest also co-founded with West Donda's House Inc., the Chicago-based nonprofit created in 2013 in honor of West's late mother.
The shade from Kardashian continued on Saturday, May 26 in her following tweets where she claimed Rhymefest never asked West for financial help.
Kardashian hit even harder when she tweeted that she will "make it my mission to take Donda's House from you..." She also said she would "let my children run it the way it should be run!"
Finally, she tweeted at Rhymefest to inform him that he is apparently no longer a part of the upcoming album.
Yeah, take a second to let that all sink in. Actually for Rhymefest, it only took about an hour for him to respond.
In a statement on his Twitter account on Saturday evening, Rhymefest responded to Kardashian,
I wasn't seeking Kanye… he was seeking me. I spoke to your husband about peace, and balance, as well as about the work that we have been doing in Chicago regarding Donda's House. He was more interested in his record...
Rhymefest also pushed back against Kardashian's negative claims against Donda's House. He asked in the statement, "How can you criticize an organization that you've never physically been to OR that you've never even talked to the Executive Director or any of the team…"
The drama ensued later on Saturday evening when the Donda's House Twitter account tweeted a statement that read, in part,
Due to recent events that have occurred over the last 48 hours, we have decided to no longer use the name Donda's House Inc. This has been an incredibly difficult decision but the social media quotes from Kim Kardashian West, as well as the expressed interest of her family running the organization, has brought us to this decision.
As of Sunday, May 27, the Donda's House website was no longer operational.
Donda's House had previously been distancing itself from West following his pro-Trump tweets last month. In a statement on Friday, May 25, the foundation shared, "While we cannot and do not speak for Kanye West and his views, we can and will speak up for the youth that we serve. We ask that those who feel hurt, angered by or frustrated with Kanye West not penalize or throw away their support, respect and advocacy for us."
Since Donda's House Inc. announced it would no longer use West's mother's name for the foundation, no further actions seem to have been taken, but the foundation did say in its latest statement, "We encourage Kim and Kanye to indeed pick up the baton of service."