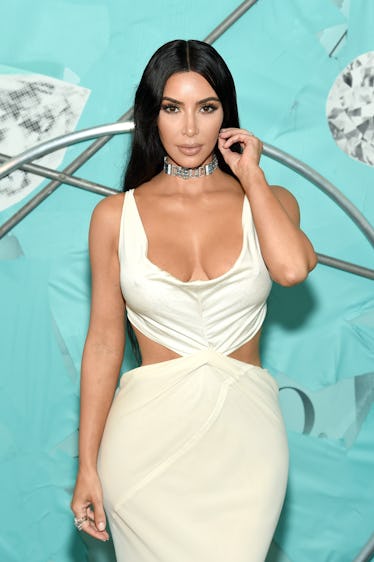 Kim K Just Blasted Mommy Shamers Who Tried To Come For Saint West On Instagram
Dimitrios Kambouris/Getty Images Entertainment/Getty Images
Kim Kardashian just got mommy shamed, y'all. And the Keeping Up With The Kardashians star was so not here for it. After the reality queen posted a pic on her Insta of herself dressed in a pink tracksuit — are those back? — while holding 2-year-old Saint and carrying baby Chi, the haters came for her big time, taking her to task for letting Saint use a pacifier (he wasn't), and for well, basically everything else. But Kim Kardashian's response to mommy shamers shows that fans had better think twice before tryin' to call her out.
OK, so here's what happened. Kim posted the adorable shot of her fam on Oct. 16, along with the caption: "Missing my babies!!!!!" So sweet, right? But it wasn't long before the critics rolled up to tear her down because Saint had what looked like a blue pacifier in his mouth.
Here's a sample of the obnoxious comments she received:
"What's Saint doing with a pacifier?" asked one follower.
"Children shouldn't be using a pacifier past age 1," added another. "It's recommended that they don't use one even after 6 months.
And from a third: "Dude, get rid of the binky."
Really, guys?
At first, Kim tried to @ some of her haters in order to set the record straight.
"It's candy," she fired back at one of them. "Not a pacifier."
But when that didn't seem to stop followers from calling her parenting skills into question, Keeks went back and amended her original caption with a note directed to all the shamers.
"P.S. mom shammers (sic) it's not a pacifier, he's eating candy!" she added at the end of her original caption.
Yes, sis!
The spelling error was unfortunate — Kardashian typed "shammers" instead of "shamers" — because the haters came at her for that, too.
And, of course, the keyboard warriors also had something to say about the whole ring pop situation:
And about the fact that while Keeks was clad in her cozy tracksuit, baby Chicago wasn't wearing any socks:
Honestly? I think it's really sad that Kardashian was clearly missing her kiddos and trying to share a nostalgic post about it, and all some of her followers could see was what they deemed wrong. Like, the picture is so freaking adorable, why flood the comment section with so much negativity and judgment?
So Saint is sucking on a Ring Pop and Chicago isn't wearing socks — who cares? It's tough being a mom of young kids and we all do what we have to do to get through the day. I have driven my kids all the way to school only to realize once we got there that they weren't wearing any shoes. Twice. It happens, guys. And no one deserves to be torn down for it.
Kim, you are rocking this thing called motherhood and doing a great job with your three kiddos. So screw all the haters and just keep living your best life, mama!