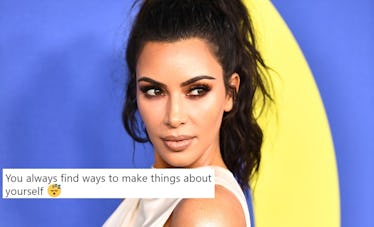 Kim K Just Clapped Back At A Hater Who Called Her Self-Absorbed In The Realest Way
Dimitrios Kambouris/Getty Images Entertainment/Getty Images
Kim Kardashian has been called a lot of things in all the time she's been famous. And that, as you can imagine, has given her some thick skin. Her tolerance for fan hate is so strong that she takes insults in stride these days. At least that's how it appears on social media as is evidenced by Kim Kardashian's response to getting called self-absorbed. Kardashian clapped back at a hater on Twitter for telling her that she has a way of making everything about herself. And honestly, her response is amazing.
On Sunday, Sept. 23, Kardashian quoted a tweet asking her how she felt when she learned about her sister Kylie Jenner's pregnancy last year. Kardashian, who was also having a baby at the time, responded with, "I was so happy knowing i was having a baby too."
In theory, it's a really sweet response because it shows that Kardashian was excited to share the journey of motherhood with her youngest sister. But one fan didn't take it that way.
"You always find ways to make things about yourself 😴," the fan wrote.
And, as always, Kardashian clapped back with the best response ever.
"Always! Consistency is key 🔑," Kardashian tweeted.
Despite the sarcasm of Kardashian's clapback, some people didn't exactly receive it well.
"Wrong... it's NOT always about YOU! That is half your problem, think about and put others first and you will be seen in a much different light Kim!" one person wrote in response to the tweet.
Another fan came to her defense with a really detailed tweet about how great Kardashian is.
"guys please don't judge @KimKardashian," the fan wrote. "she is so wonderful, she is a wife, media personality, mother, motivational speaker and a humanitarian,fashion designer and a model, she is a champion, please respect her, she is the Queen of greatness."
Other fans were all for Kardashian owning her self-absorbed personality. And you know what? It's not the first time Kardashian has told haters that she's not ashamed to be self-absorbed. She did it back in January, too.
"Is it me, or is @KimKardashian Sooo Self-absorbed.. even when she's saying Nothing.. lol," a Twitter user wrote at the time. "& I Like the Kardashians #KUWTK."
Kardashian's response? "No it's not you, I totally am!" Kardashian tweeted back.
So, Kardashian isn't exactly put off by people calling her out for her self-absorbed tendencies. And that's not necessarily a bad thing. She gets a lot of flack for how public her private life seems to be. At some point, she's got to just own it and deal with whatever backlash she gets. And it definitely seems like she takes it all in stride.
It's good that she does because her family is under public scrutiny all the time. It's probably for the best that she sets an example for her kids now, so they can learn how to cope with all the probing questions, assumptions, and cameras in the future. More than anything, though, Kardashian shows everyone why she's cut out for life in the public eye: she's confident in who she is, no matter what the haters have to say.