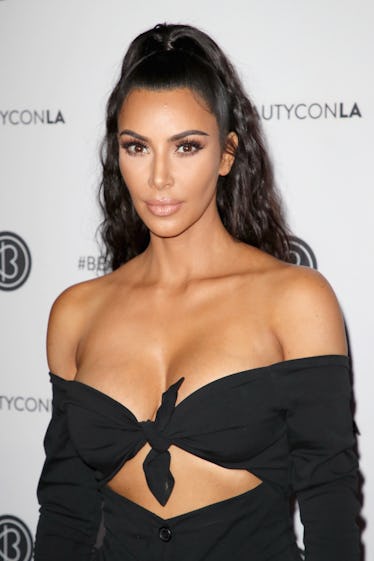 Kim K Trolling Herself On Instagram For Her Creepy Yeezy Ad Is The Best Thing Ever
David Livingston/Getty Images Entertainment/Getty Images
Kim Kardashian wants you to know that she doesn't take herself too seriously. She totally has the ability to make fun of herself and she's doing it for everyone on Instagram right now. Kardashian took to her Instagram Story to post memes of her recent Yeezy ad, which shows her lying down on a sheet in sneakers and gray underwear. The ad is so awkward and creepy that fans naturally had to mock it. And Kim Kardashian's photos trolling her Yeezy ad prove she's in on the joke as well.
Kardashian posted the memes on Monday, Aug. 13, more than a week after she shared the original ad photo on her Instagram account. In the photo, not only is Kardashian wearing sneakers and underwear in bed, but she's got a pretty distant look in her eyes and she has her arms posed just above her head. So, all together, it's an incredibly bizarre and lifeless-looking photo for an ad, and that's exactly what prompted people to start making memes out of it in the first place.
In her Instagram Story, Kardashian shared some of the popular memes of her Yeezy ad. Some border on pure ridiculousness, but they're hilarious nonetheless. Before I get into the memes, though, here's a look at the original photo just so you can get an idea of how creepy-awkward it is:
And now for the memes.
Kardashian shared one where she's basically part of the Toy Story gang. Here she is with Andy and Buzz. She fits right in, doesn't she?
Some creative person out there also put Kardashian in the middle of a wrestling ring. She looks like she's pulling off a killer move.
Kardashian also shared a meme that shows her being nabbed by King Kong. This is the best one, in my opinion. It's a perfect fit!
And now on to the weird and wacky: Kardashian as a topping for a stack of pancakes. I can't explain the hows or whys of this meme, but it's definitely something to look at!
Kardashian isn't the only one in on the joke. Teen Wolf and Arrow star Colton Haynes has also made his own meme-like Instagram post.
And this random dog is also meme-ifying himself:
So, people (and animals) are definitely getting creative when it comes to creating Kardashian-inspired memes.
In addition to sharing her favorite memes, Kardashian also posted another snap of herself from the Yeezy ad photoshoot. It's a little more risqué than the other photo, but fans would probably consider it way more Kardashian-esque. While she added it to her Instagram Story, the fan account kimkardashinan posted it as well:
In any case, Kardashian proved that she doesn't take any of this stuff too seriously. She can make fun of herself just like the rest of the world does and that's actually a really humbling thing for her to do. She doesn't seem to be so caught up in her image anymore that she takes offense to how often people roast her. And that's a lesson for everyone, really.