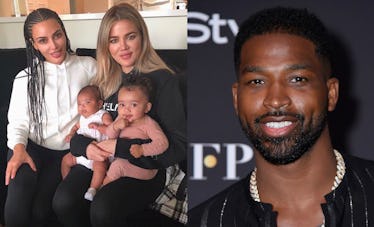 Kim K's Instagram Of Chi & True Could Hint At How She Really Feels About Tristan Thompson
Kim Kardashian on Instagram/Michael Loccisano/Getty Images
Kim Kardashian, Khloé Kardashian, and Kylie Jenner's daughters might as well be siblings, they're so close in age. Kim and Khloé recently took their kiddos on a vacation to Bali where, naturally, they took a bunch of pictures. And Kim Kardashian's photo of Chi and True is super adorable, and also possibly a clue about Kim's current dynamic with Tristan Thompson.
The picture shows little 9-month-old Chicago West and 6-month-old True Thompson smiling and posing while on their vacation in Bali. Kim captioned it "Besties in Bali" and tagged Khloé Kardashian and Tristan Thompson. Now, let's not forget that there was once a time when Kim and Thompson had each other completely blocked on Instagram, so the fact that she's tagged him in one of her Instagrams could be a sign that there's no bad blood between them amid all of the Khloé and Tristan breakup rumors.
Kim was one of Tristan Thompson's most public critics following the news that he reportedly cheated on Khloé the weekend before she gave birth to their daughter, as well as at a reported earlier point in Khloé's pregnancy. Kim was the only member of the family to address the cheating scandal directly in interviews, telling Ellen DeGeneres that the whole situation was "so f*cked up." Once Khloé and Thompson reconciled, Kim and Thompson eventually did as well. They even posted photos and videos showing Thompson unblocking Kim on Instagram. And now that Kim is tagging Thompson in her Instagrams, it seems like they are on pretty good terms, despite the possible end of Khloé and Thompson's relationship reportedly looming.
Or there's also the really simple explanation that she just tagged Khloé and Thompson because their daughter is in the pic. But that's just not as fun.
~Besties in Bali~.
True's parents breaking up has been a constant will they/won't they back and forth ever since she was born in April. Khloé and Thompson are still together, but Khloé has reportedly been struggling for months trying to trust him again. It has delayed her and True's move back to Cleveland (where Thompson lives during basketball season), but while that might hint there's trouble in their relationship, Khloé reportedly isn't positive that she wants to end it. Elite Daily reached out previously to Kardashian's team for comment about the report, but didn't hear back by the time of publication.
In September 2018, the internet thought Thompson was cheating on Khloé again when he was seen leaving a club. Photos of the night show Thompson getting into a car while two women stand close by, leading some to believe the women were waiting to leave with him. It's not clear if the three knew each other or if the women were waiting for him. Elite Daily reached out to Kardashian and Thompson's teams for comment at the time, but did not hear back by the time of publication. According to People, this was not enough to make Khloé want to call it quits on their relationship.
Khloé's delayed move back to Cleveland is reportedly rooted in her lack of trust in Thompson, which is totally fair. "It's, of course, difficult to trust someone 100 percent who cheated days before he was about to become a dad," a source told the outlet. "Khloé still struggles with this sometimes. She wants to move back to Cleveland, but she isn't sure what date she is [going]. The move is postponed for now. She seems very upset about leaving her family. She had the best summer in L.A." Elite Daily reached out previously to Kardashian and Thompson's teams about the source's claims, but did not hear back by the time of publication. It sounds like she's trying to make it work, but making it work is proving to be more difficult than she expected.