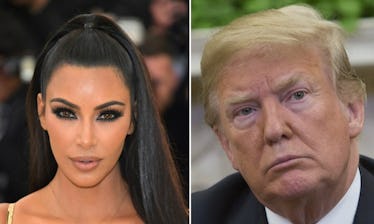 Kim Kardashian Got Real About Her Feelings On Donald Trump & People Are Pissed
NEILSON BARNARD/GETTY IMAGES ENTERTAINMENT/GETTY IMAGES // POOL/GETTY IMAGES NEWS/GETTY IMAGES
Kim Kardashian opened up big time about her feelings on President Donald Trump in a new interview with Jimmy Kimmel. In the chat, the KKW beauty mogul reflected on her May 30 Oval Office sit-down with the president, wherein she successfully lobbied for the release of Alice Marie Johnson, who had been serving a life sentence in prison for a first-time drug offense. So it's maybe not surprising Kim Kardashian's opinion of Donald Trump has become a lot more pleasant than we might have expected.
Kardashian reflected on the experience in an appearance on Jimmy Kimmel Live! on Monday, July 30. While she acknowledged that she "[doesn't] agree" with everything that Trump does, she refused to criticize him and praised him for releasing Johnson, instead. "I have nothing bad to say about the president. He has done something amazing," the reality TV megastar explained recounting her meeting with the president on May 30.
"I knew that there was only one person in power who could make this change, who could get this woman out of prison, so I went for it," she added.
Some Twitter users, however, were baffled by her comments (or lack of).
But other Tweeters swept to Kardashian's defense, insisting she was only keeping a poker face in order to keep Johnson out of prison.
Trump granted clemency to Johnson on June 6, after she'd served more than 21 years of a life sentence due to her involvement in a drug trafficking operation. The 63-year-old had been in prison since 1996 for charges related to drug conspiracy and money laundering, per The New York Times, and was released from prison immediately after Trump's motion. In the decision, the White House labeled Johnson as a "model prisoner" who has "worked hard to rehabilitate herself."
Moments later, Kardashian took to Twitter to express her gratitude for Trump and others' activism for Johnson, writing:
So grateful to @realDonaldTrump, Jared Kushner & to everyone who has showed compassion & contributed countless hours to this important moment for Ms. Alice Marie Johnson. Her commutation is inspirational & gives hope to so many others who are also deserving of a second chance.
It's a much more civil conversation that I think a lot of us were anticipating, especially given the fact that her husband, Kanye West's, support for Trump has been a point of contention. In late April, West went on a long Twitter binge, posting about his support for Donald Trump. The tweets pissed a lot of people off, and West later tweeted that Kardashian had asked him to roll back his comments, to a point. He wrote,
my wife just called me and she wanted me to make this clear to everyone. I don't agree with everything Trump does. I don't agree 100% with anyone but myself.
Trump himself has also gotten plenty of side-eye in the wake of the meeting, with many people pointing out some of his policies that are, perhaps, just as deserving of reform, including the now-abandoned "zero tolerance" policy — which permitted the separation of migrant families who were caught crossing into the United States illegally. As adults were prosecuted for illegal entry, any children they were with (who could not go through the adult criminal justice system with their guardians) were sent to detention centers. The practice was met with widespread, bipartisan condemnation, and on June 20 Trump finally agreed to halt it amid increasing backlash.
Meanwhile, Kardashian had refused to rebuke the president regarding the separation crisis, telling The Hollywood Reporter back in June,
I try to see all sides, especially after this experience. There's obviously a lot that we don't agree with, but I want him [President Trump] to win. I want him to succeed, because it's our country. It's so crazy that everyone doesn't want that.
Clearly, Kardashian is adamant about her stance on Trump. And if she feels that his pardon of Johnson was that worthwhile, despite all of his controversial policies and whatnot, then she's at least entitled to her own opinion. And bravo for her keeping her comments positive. That's gotta count for something, hey?