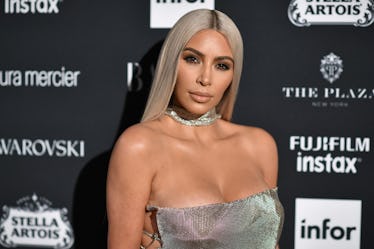 Kim Kardashian Themed Her Halloween Costumes & It's So Perfect
Dimitrios Kambouris/Getty Images Entertainment/Getty Images
Halloween is an occasion that's not to be taken lightly. The festivities call for some serious planning, and of course, nailing a look is essential — just ask your favorite reality TV starlet. Kim Kardashian's Halloween costume theme takes the holiday to new levels and will leave you feeling completely nostalgic, so get ready for a blast from the past.
The queen everyone keeps up with, whether they like to admit it or not, took to Twitter to announce not just her costume, but her costume theme for 2017, as one look is not nearly enough for the spooky season. She wrote, "My Halloween theme this year is ICONS! Musical legends!!! Paying homage to some of my faves!" How appropriate for the social media icon.
So obviously people tuned in upon hearing this news. What will she be? Who will she take to her parties? Will the kiddos be making an appearance? So. Many. Questions.
In typical Kardashian fashion, Kim had the internet in an uproar with three different looks for 2017 (thus far — who knows what else is to come before Oct. 31).
She totally turned back time with her first look by showing love for Cher. Instead of Kanye, Kim brought along BFF Jonathan Cheban as Sonny to her Oct. 27 get-together. She obviously caused quite the stir and people couldn't get over her '70s garb... even Cher herself weighed in on the outfit.
Have a look at Sonny and Cher. Scratch that: Kim and Jonathan.
Cher couldn't have been more praiseworthy about the costumes. Guess it's safe to say imitation really is the best form of flattery.
Before carrying on with the rest of Kim K's look, please note the important Kardashian Halloween hashtag, as you will not be able to appreciate her HalloweKKween without it.
If you thought a wedding hashtag was an essential, clearly you're not thinking outside the box. Your Halloween events need one, too. Take a look at Kim's for inspo: #HalloweKKWeen. Need updates on all the looks, the news, and whatnot? Your girl's got your back.
Let's continue and focus on Kim's second Halloween look.
Kim swapped her BFF and took her sis Kourtney for round two, which she posted to Twitter late on Saturday night. The dynamic duo opted for a classic look — one that most people probably forgot about. Remember when Madonna and Michael Jackson were a couple for a hot second? The king and queen of pop made a debut at the 1991 Oscars, which was the look the two sisters opted for. Can you see the resemblance?
These girls did not hold back. Will Kim dethrone Heidi Klum as the reigning celebrity queen of All Hollow's Eve? It looks like the two are running a pretty close race.
Kim's third look is a much-missed star of the 2000s: Aaliyah.
This is Kim's sexiest look yet (well, as far as 2017 Halloween costumes go, anyway). In dark-colored eyeshadow, a sparkly choker, and gem-studded bra, Kim wrote "Baby Girl Aaliyah" on Twitter, also on Saturday night (though she didn't use her hashtag this time around).
However, Kim received pretty heavy backlash for her tribute to Aaliyah.
Fans were not all thrilled about the choice.
What began as a way to pay tribute to icons quickly turned into a mini Twitter war. The star is used to causing a bit of an uproar... but maybe not like this. As of Oct. 29, the debate is still going about her Aaliyah look.
Oh Kim, you never cease to make waves. Do you have anything else up your sleeve this year? It seems likely — our fave reality queen posted to Twitter that she would be posting "tons of pics" and videos on her app to show off her looks and process.
Don't forget to use your hashtag, though, Kim — your fans will be following it to find out.
Check out the entire Gen Why series and other videos on Facebook and the Bustle app across Apple TV, Roku, and Amazon Fire TV.