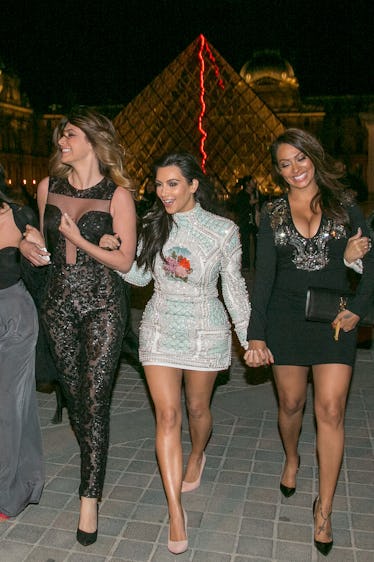 Kim K's Friendships Through The Years Have Been ALMOST Drama Free
Marc Piasecki/GC Images/Getty Images
Kim Kardashian has had one of the most lucrative careers in reality TV history. Kardashian went from being a stylist and assistant for pal Paris Hilton to creating a multi-million dollar personal brand and becoming a fashion icon and admirable entrepreneur, all while filming 20 seasons of Keeping Up With the Kardashians. Just as successful as her career are her famous friendships. Kardashian keeps a close circle, with many of her BFFs being lifers. Kim Kardashian's friendship timeline is seriously impressive.
Whether Kardashian is celebrating a milestone life event at her home in Calabasas or walking the red carpet at a public event, she's often surrounded by those closest to her. Sure, she has five built in BFFs — aka, sisters Kourtney, Khloé, Kendall, Kylie, and brother Rob — but Kardashian's non-blood-related friends mean just about as much to her as her KarJenner clan.
While Kardashian goes way back with many of her BFFs, some came into her life later in the game, but that doesn't mean she's not just as close with those pals. Some of Kardashian's friendships, however, lasted for decades before ending in a hot mess that played out in public. Take a look through her friendship timeline below.
Allison Statter (1987 - Present):
Kardashian's longtime bestie Statter has been a loyal friend for more than three decades. Their friendship dates way back to when they were just little kids — at least back to age seven — and is still going strong today. Kardashian loves sharing throwback pics from her childhood that include Statter.
Just like Kardashian, Statter is a super successful businesswoman. She is the CEO of Blended Strategy Group, a "celebrity and influencer marketing and full service brand public relations agency," according to their website.
In August 2020, Kardashian and Statter teamed up to launch their beauty collab KKW x Allison.
Paris Hilton (Early '00s - Present):
While there's no publicly concrete date when Kardashian and Hilton first became friends, their relationship dates back to at least the early 2000s. From about 2003 to 2005, Kardashian worked as Hilton's stylist and assistant, and was often featured on episodes of her hit reality series The Simple Life. Around the same time, the women used to hit the town together for girl's nights at some of Los Angeles' hottest parties.
The two seemed like picture perfect pals until Hilton called Kardashian's famous backside "gross" during an interview in 2008. She later apologized, telling InTouch: "I was just joking around and I made a stupid joke. I felt really bad afterward, so I contacted Kim and apologized. It was a silly thing to say. Kim's hot!"
Kardashian told the outlet that she forgave Hilton, because that's what friends do. "Paris and I have been friends since we were kids and I'm glad she made the effort to say she's sorry," Kardashian shared.
Fast forward to 2020, and the two are still as close as can be.
Jonathan Cheban (2009 - Present):
Kardashian and Cheban go way back to 2009, when he was working as a publicist who ran in the same circles as Kardashian and her friends. The two obvi became inseparable at some point, and many of their hangouts are documented on Keeping Up With The Kardashians. Their friendship is so strong, in fact, that Cheban previously told The Daily Mail that in their more than 10 years of friendship, they've only ever had one fight.
"The only time we fought was on TV with my business partner," he said. "That's the only time I didn't answer her calls, I was furious about it because I thought she was on his side. That's the only time in 10 years, we literally don't fight."
Larsa Pippen (2011-2020):
For nearly a decade, Kardashian and Pippen seemed to be true BFFs. Between hanging out alone and sharing many memories with their kids together, things seemed to be carefree when it came to their friendship. That is until July 2020 when Pippen not only unfollowed Kardashian, but all of her sisters on social media.
It didn't take Pippen long to speak out about speculation they were feuding. "I Woke up this morning blessed and see that everybody is focused on who I am following and who I am not following on social media," Pippen wrote on her IG Stories. "I am focused on my children, my new fitness brand Larsapippenfitness, and my relationships in real life. Praying that everybody finds peace in their own lives and focus on what brings THEM happiness."
Pippen later blamed Kanye West for the demise of her and Kardashian's longtime friendship. "I've been the most honest and truthful best friend to all of them," Pippen said during a Nov. 10 interview on the Hollywood Raw podcast. "[Kanye] has literally brainwashed the whole family into thinking I don't even know what." (Kardashian's team did not respond to Elite Daily's previous request for comment on Pippen's claims.)