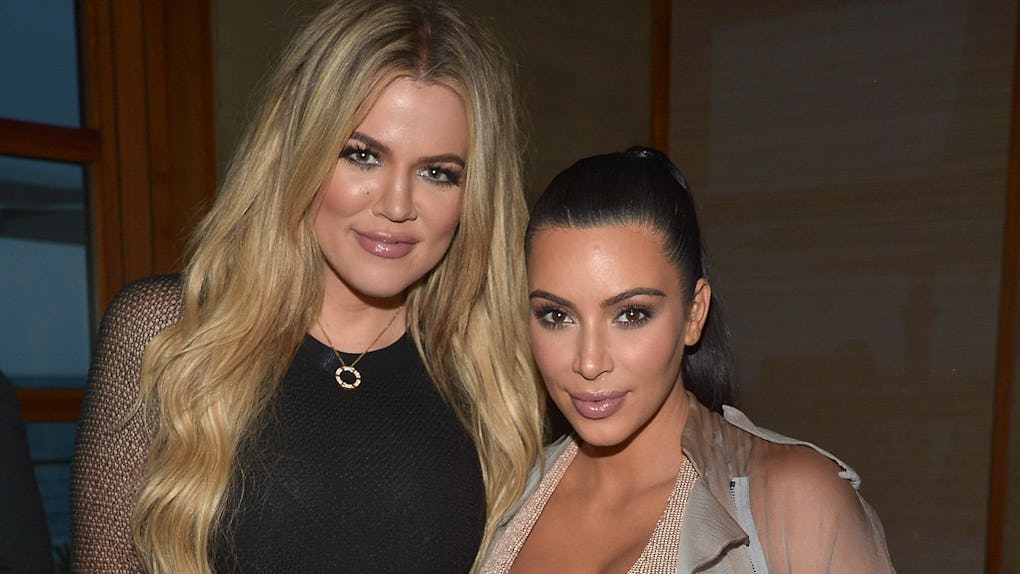 Charley Gallay/Getty Images Entertainment/Getty Images
Kim Kardashian's Comments About Supporting Khloe & Tristan Thompson Are Oddly Neutral
Kim Kardashian is opening up about the rumored cheating scandal surrounding her sister Khloé and Tristan Thompson. But she's not exactly saying what people might want to hear. In an odd move, Kardashian kept it surprisingly neutral when she called in to On Air With Ryan Seacrest. While Kim Kardashian's comments about supporting Khloé and Tristan Thompson were nice enough, they weren't really in the vein of forgiveness. So, it kind of makes you wonder what's really going on behind the scenes.
Kim called in to On Air With Ryan Seacrest on Thursday, August 2, and spoke at length about the upcoming season of Keeping Up With The Kardashians. The new season, of course, will cover the rumored cheating scandal that went down with Thompson back in April 2018. At the time, Khloé was just days away from giving birth to her daughter, True.
Kim assured Ryan Seacrest that fans would get all the details they've been dying to know, but she also made sure to note that the Kardashian-Jenner family stands by Khloé, no matter what.
Here's what Kim said to Seacrest:
We definitely all had that conversation — and honestly I don't want to give too much away because we genuinely had those conversations — and sometimes we were filming and sometimes we weren't, and it was more maybe when Khloe wanted her privacy and no cameras when she was in Cleveland going through that, [but] the sisters were still all filming and talking about how to approach it and what to do.
Kim also spent some time explaining that the whole situation was "new territory" for her family, especially because there was a baby involved and they all wanted to be sensitive to that.
It was definitely new territory for us when you have a new baby coming into the world. I think ultimately we always want her to be happy, but it gets all clouded when there's a baby, you know?
There was no word on whether the Kardashian-Jenners actually forgive Thompson for how he treated Khloé, but Kim was sure to say that they all support what Khloé feels is best.
Khloé's motherly instincts kicked in and she has to do what makes her happy so we'll support that.
Wow, it still seems like a strangely tense situation, almost as if they're going along with it simply because of their love for Khloé.
And it doesn't look like fans will get all the answers they want on the show either. Kim explained to Seacrest that there were some things about Khloé's pregnancy and childbirth that they didn't want the cameras to capture:
There was a moment where we were all flying to Cleveland when she went into labor and we were filming and mom [Kris Jenner] didn't want anyone to know she was in labor, so my mom just left and got on a plane, and then Khloe called us — we were with a bunch of other people in this live interview that she didn't want to know — so she goes and gets on a plane, and then me and my other sisters get on another plane, and we were like 'This is so stupid! We all need to be together and go through this!' And it was like so much drama getting there. You'll see it all — season 15.
So, what's the lesson here? I'd say it's that the Kardashian-Jenners protect their own at all costs and that sometimes keeping it in the family is the best thing for everyone.