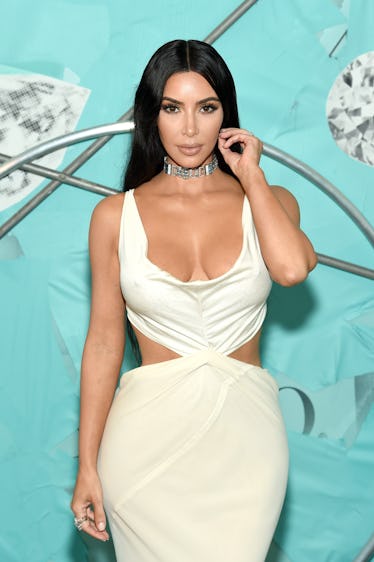 Kim Kardashian's Apology For Using The "R" Word At Kendall Jenner's Party Was Necessary
Dimitrios Kambouris/Getty Images Entertainment/Getty Images
Kim Kardashian is in hot water yet again. The Keeping Up with the Kardashians star has come under fire for using a word that's extremely insensitive. And now she's apologizing to her fans and followers for using the word in the first place. Kim Kardashian's apology for using the "R" word is both necessary and a solid effort to move past a poor choice in judgment.
The incident happened on Wednesday, Oct. 31, when Kardashian attended her sister Kendall Jenner's birthday party. Dressed as Pamela Anderson, Kardashian recorded several videos of herself at the party. And in one of those videos, which has now been deleted, she dropped the R word much to her fans' chagrin.
In the videos, Kardashian can be heard complaining that no one at the party recognized her costume. In one video, she went around the room asking people if they knew who she was dressed as. It turns out, no one knew!
"You guys are all too f*cking young," Kardashian said. And then she told her former assistant, Stephanie Shepherd, "Nobody knows who I am. Yeah! Ret*rded."
After receiving backlash for the comment, Kardashian provided a statement to Entertainment Tonight in which she expressed her regret over using that word.
"I want to apologize for what I said in a recent video post that is inappropriate and insensitive to the special needs community," the statement read. "I try to learn from my mistakes and this is one of those times. Please know that my intention is always pure, and in this case, it was a mistake. I'm sorry."
You can check out some of Kardashian's party antics down below, including a video of her sister Kylie Jenner recognizing her costume:
Kardashian's apology for using the "R" word comes just a few months after her sister Khloé Kardashian apologized for the exact same thing. Back in July 2018, Khloé live-streamed a video with one of her sisters on Instagram and used the word.
One fan tweeted the younger Kardashian to let her know it wasn't OK to use that specific word. And the fan used baby True as an example.
"I was watching your livestream on Instagram until you said the 'r' word," the fan wrote. "You should pay more attention to your word choices especially since you have a huge following&don't know who you could be offending. If True had a disability you would use a different word. @khloekardashian"
"Ugh I hate that word! Why did I even say that?," Kardashian wrote in response. "You are a million percent right and I actually greatly dislike when people use that word! I will do better! I am sorry! 😞 much love today."
So, the Oct. 31 incident wasn't the first time the Kardashians were confronted with this particular issue. Luckily, the Kardashian family is quick to apologize and correct their mistakes. Hopefully they can actually learn from these mistakes in the future and refrain from using that word (or any other offensive terms) again anytime soon. Here's hoping the rest of the year goes without incident!