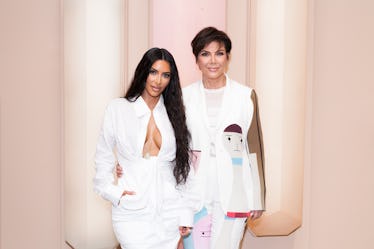 This Video Of Kim Kardashian FaceTiming Kris Jenner On The "Thank U, Next" Set Is Everything
Presley Ann/Getty Images Entertainment/Getty Images
Since dropping in late November, Ariana Grande's music video accompaniment to her breakup anthem, "Thank U, Next," has become a viral sensation. Styled after the most memorable romantic comedies of the early 2000s, the chart-topping video has created some pop culture moments of its own, including Kris Jenner's unforgettable star turn as Regina George's mom in an ode to Mean Girls. TBH, the Keeping Up with the Kardashians matriarch's appearance in the video might be the best part about the whole thing, and Kim Kardashian and Kris Jenner FaceTiming during "Thank U, Next" filming shows that the momager is pretty much playing herself — and having so much fun doing it.
On Friday, Dec. 7, Ariana Grande gifted her Arianators with some brand new behind-the-scenes footage from her "Thank U, Next" music video, and Jenner getting into character (or rather, just being herself) as the "cool mom" is everything.
The 63-year-old perfectly channeled Amy Poehler's character from Mean Girls during a scene that involves her attempting to snap a video of Ariana's Christmas performance, busting some moves in the aisle, and shouting "Thank you, next, b*tch!" It's hilarious AF (seriously, though, that casting decision is so on point), and Grande had to get the momager's second-oldest daughter, Kim, on the phone to see it all go down, because who'd want to miss this:
In the clip that had gained almost 1,300,000 views at the time of publication, an incredulous Kim can be heard exclaiming, "Is that my mom?!" on FaceTime as the phone pans to Jenner dancing up a storm on set.
Her mom comes and takes the phone, asking her, "Did you just see me?" Kim responds "It was so funny!" as Jenner shows her daughter to the people on set.
"Say hi to Kim everybody!" she tells the cheering group.
Grande's behind-the-scenes release comes weeks after Kardashian first teased the fact that she'd be making a surprise appearance of sorts. "I just witnessed the best funniest thing OF ALL TIME OMG @ArianaGrande," she tweeted along with the laughing emoji on Nov. 19, which quickly led fans to speculate that the KKW Beauty maven would be making some sort of kameo.
Then, during an interview with Refinery29 on Dec. 3, Kardashian spilled what we all already knew: Jenner is a natural at being a "cool mom."
"She was definitely meant for that role," Kim admitted during the interview. "I was actually on FaceTime with Scooter Braun [Grande's manager] when they were shooting that scene. So I was watching it in real time, and I was literally crying. I was like, crying watching her." Sounds about right.
As for all the buzz surrounding Jenner's "Thank U, Next" video, Kardashian joked that her mom is letting it all get to her head.
"I'm in a huge meeting and my mom just said 'thank you, next' to everyone," the TV personality quipped in a tweet on Friday, Dec. 5. "She's really milking this guys," she continued.
Kris Jenner: reality star turned comedic actress? All I'm saying is that I wouldn't rule it out at this point.