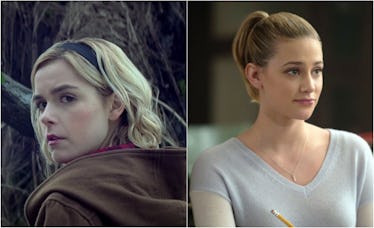 This Actress Was Almost Cast As Betty On 'Riverdale,' But Her New Role Is Much Better
Netflix / The CW
It's hard to imagine different actors included in the tight-knit Riverdale gang, but in an alternate reality, our beloved Bughead could have looked a little different. She's about to explore her witchy side in Netflix's Chilling Adventures of Sabrina, but Mad Men's own Sally Draper could have made her return to TV on The CW's Riverdale instead. According to the creator of both Riverdale and Sabrina, Kiernan Shipka was almost cast as Betty on Riverdale before starring in the upcoming Sabrina.
Creator Roberto Aguirre-Sacasa originally planned for Chilling Adventures of Sabrina to launch on The CW as an official Riverdale spinoff, and although its place on network TV didn't work out, Sabrina comes intact with a similarly dark vibe. A possible crossover between the two series is still up in the air, but Aguirre-Sacasa once wanted 19-year-old Shipka as the prim and proper Betty Cooper on Riverdale. He told Entertainment Weekly, "Kiernan was iconic in Mad Men, and I had even thought about her, I was like, 'Oh I wonder if she'd ever do Betty.'"
Although the role of Betty obviously went to Lili Reinhart, Aguirre-Sacasa kept Shipka in mind as he began work on Chilling Adventures of Sabrina. When the time came to cast his new leading lady, Shipka's name popped up again, and Aguirre-Sacasa told EW:
When [Sabrina] moved from CW to Netflix, our casting director David Rapaport said, 'By the way this is something Kiernan might be interested in.' There was no script at the time, but from the second he said that, for me it was sort of like, 'Okay she's Sabrina. I'm writing this for Kiernan.' She felt like the right actor at the right age at the right point in her career and someone who was up for the challenge, because it's grueling. She's in practically every scene... I'd say she was my first choice for sure.
Reinhart and the Betty that almost was could have met onscreen when Aguirre-Sacasa considered introducing Sabrina as a villain in Riverdale's second season and revamping the show to fit the horror genre. The idea didn't pan out, and the two shows being on separate platforms could make a future crossover difficult. However, Riverdale and Sabrina still exist in the same universe. Shipka's Sabrina lives with her aunts Hilda and Zelda in Greendale, which is established as a neighboring town of Riverdale. In an interview at New York Comic Con, Shipka spilled about the shows somehow crossing paths, saying:
I personally think that the only way a crossover could really work is if it was a very isolated [Riverdale] character that came into our world... if somehow, someone got off the beaten path and they wandered into our world... But I think the second that you start involving more and more people, it kind of could get crazier.
Seeing as Netflix picked up Chilling Adventures of Sabrina for two seasons, there's totally time for the drama to intertwine with Riverdale down the line. While Shipka as Betty probably would've led to an even more overachieving, earnest character, it's safe to say that both she and Reinhart have ended up in the best scenarios for each of them. I'll keep my fingers crossed for Sabrina and Betty to meet someday, but until then, here's to both ladies getting to the bottom of kooky happenings in their own towns.
Season 3 of Riverdale continues on Wednesdays at 8 p.m. ET on The CW. Season 1 of Chilling Adventures of Sabrina launches on Netflix on Friday, Oct. 26.