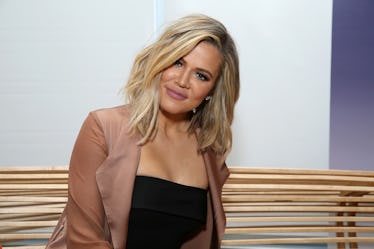 Khloé Seemed To Confirm She's Back With Tristan In Her IG Post For His Birthday
Cindy Ord/Getty Images Entertainment/Getty Images
It appears that Khloé Kardashian is getting very close to her ex. Rumors have been swirling around Kardashian and Tristan Thompson for a while, but things just keep getting more and more suspect. If you're ready to talk romance, Khloé Kardashian's 30th birthday Instagram for Tristan Thompson was basically #relationshipgoals, so the question is, are they back together?
Unfortunately, neither Thompson nor Kardashian has officially confirmed that they are back together, which means all fans can do is speculate about the ~evidence~. Case in point: Kardashian's Instagram post on Saturday, March 13. The reality star included a thread of photos from Thompson's birthday party, which featured a lot of pretty greenery and a giant "30" hanging in the background. The first photo showed the two happy parents holding little True Thompson's hands. Kardashian wore a metallic silver dress, while Thompson sported a stylish silver-grey suit, and True had on a sweet white dress and black combat boots.
The photos are adorable, but Kardashian's caption was high-key romantic. She began, "The ones that are meant to be are the ones who go through everything that is designed to tear them apart, and they come out even stronger than they were before." Kardashian continued, "Thank you for showing me everything you said you would. For the father you are. For the best friend I have in you. I'm thankful that I can do absolutely nothing with you, and it feels like everything."
She concluded her post, writing, "I hope you know today and every day how loved you are by me and so many. Happy Birthday, TT! Welcome to 30! I can't wait for all of the memories. This is when life just starts getting good!"
This isn't the only occasion that's fueled the rumor fires. At the start of 2021, Tristan Thompson's comment on Khloé Kardashian's New Year's post raised some eyebrows. Kardashian rang in the year with True in a matching outfit, and Thompson commented with some heart and diamond emojis.
The diamonds, fans theorized, could be a signal that the couple was secretly engaged or married. A Dec. 23 Daily Mail article seemed to debunk any speculation leading up to New Year's, as a source reportedly claimed they weren't engaged.
Fans also found it a lot unpack when a source reportedly told People on Feb. 9 that Khloé and Tristan wanted baby number two. "It's a big priority for both of them," claimed the source.
The news of Kardashian and her ex-flame wanting another bun in the oven was already showcased in a teaser for Keeping Up With The Kardashian on Feb. 4. The clip showed Kardashian and Thompson in a serious discussion about the possibility of a second child. "Kim [Kardashian West], every time I post a video of True, she [direct-messages me] and she's like, 'She can't play by herself her whole life,'" Khloé said to Tristan. "In my head, when I was going to have kids, I never ever imagined having an only child."
Thompson was totally on board, saying, "That's what I like to hear."
Obviously, the pair is on the same page about raising a family. Still, it's unclear if Kardashian and Thompson have rekindled their romantic love for each other. It certainly seems to be the case, but only time will tell if they want to recommit.