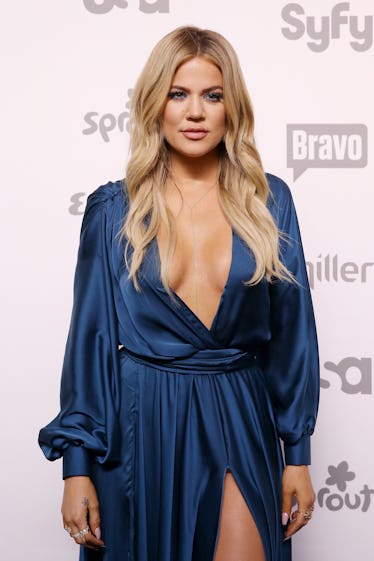 Khloé Kardashian Opened Up About How "Happiness" Should Be Priority & It's Really Deep
Robin Marchant/Getty Images Entertainment/Getty Images
It's no secret that the Kardashian-Jenner siblings are super close. Whether they're going through relationship woes, navigating pregnancies, or achieving career goals, these siblings always have each other's backs and it's really endearing to observe. We often get a taste of all that sibling love when Khloé Kardashian posts heartwarming messages to her app. Recently, she expressed that she wanted just one thing for her siblings. So, what's Khloé Kardashian's wish for her siblings? It's actually really simple.
Happiness. That's all Kardashian wants her siblings to experience in their lives. Perhaps, that's all she wants to experience as well. On her app, Kardashian posted the following message for her siblings:
I genuinely wish for all of my siblings that they find everlasting happiness in all that they do! Life is short, and at times, we put so many others before us, but one of our priorities should be our own happiness. Once you have that, it trickles down to everyone around us. I sincerely wish happiness and peace to my sisters and brother.
The poignant message, which touched upon some very real and very honest things, comes just a few weeks after Kardashian gave birth to her first child on April 12. That child, True Thompson, marked the start of an all-new journey for Kardashian. The socialite turned reality star is now a mom and it looks like her new role is putting life into perspective.
As the family branches out and grows, Kardashian is, no doubt, seeing how quickly life can change. So, it's really nice to see her holding on to the close relationships she currently has with her siblings.
Family love aside, Kardashian's wish for her siblings may also be a reflection of some recent difficulties she's had in her relationship. Just days prior to giving birth, Kardashian was saddled with reports that her long-time beau and NBA player Tristan Thompson had allegedly cheated on her. The report came via The Daily Mail and alleged that Thompson was seen getting cozy with a woman at a New York bar and lounge. The April 10 report was also accompanied by a video of the incident.
Elite Daily reached out to both Kardashian's and Thompson's teams for comment on that report, but has not received a response at the time of this publication.
Since the cheating scandal broke, Kardashian has been grappling with what to do about the situation. On Friday, April 13, a source close to Kardashian told ET that Kardashian was dedicated to creating a strong family unit:
They are both 100 percent committed to moving past this and focusing on the overwhelming joy they have in their life right now with their new daughter. Tristan knows he's got to step up now though and can't screw up.
So, it seems that Kardashian is truly committed to making sure her family is intact. Sounds like being a mom is helping her achieve a certain level of happiness and she's wanting to spread that happiness around. Well, offering her siblings some words of wisdom is one way to do it. How sweet!
Given Kardashian's ups and downs over the last few years, it's also possible that she just wants to set a good example for her siblings. Prior to her relationship with Thompson, Kardashian was married to NBA star Lamar Odom, who suffered a drug overdose in 2015. Although Kardashian remained at his side during recovery, the relationship ended in divorce.
Now that those personal trials and tribulations have long since passed, Kardashian seems to be doing really well. So, it's great to see her feeling good and helping others do the same.