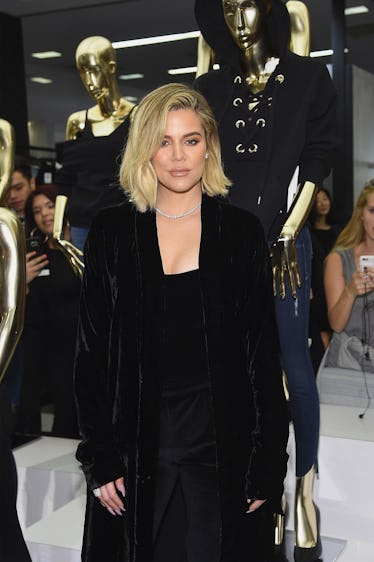 Khloé Kardashian Just Got So Real About Watching Tristan's Reported Cheating On 'KUWTK'
Jamie McCarthy/Getty Images Entertainment/Getty Images
Keeping Up with the Kardashians has been a reality TV giant for some time now. Millions of fans tune in every week to see what is going on in the lives of the Kardashian-Jenner crew. Since it's not filmed in real time, though, there are episodes that air months after big events in the family's lives. One of those such incidents will air on the Nov. 4 episode of the show. Khloé Kardashian has taken to social media to address her feelings about the very personal episode, and Khloé Kardashian's tweets about KUWTK airing Tristan's reported cheating scandal from back in April are so honest about how she's feeling.
On Sunday, Nov. 4, Khloé sent out a series of tweets discussing how she feels about having to watch the episode in which everyone finds out about Tristan Thompson's reported cheating from back in April 2018, which was also right before Khloé was about to give birth to their first child together. Per reports from The Daily Mail and TMZ, Thompson was apparently seen kissing another women and then reportedly kissing two other women at a hookah lounge on a different occasion. Elite Daily previously reached out to Kardashian and Thompson's teams for comment on the reports but did not hear back by the time of publication.
TBH, it was just all-around sad news to hear when Khloé should have been experiencing one of the happiest times of her life. Clearly, it wasn't the best time for Khloé, and she explained how it will be "uncomfortable and super emotional" watching it play back in an episode with her tweet on Sunday afternoon that read,
Tonight's episode is an uncomfortable and super emotional one for me, but when we signed up for this show over a decade ago, we signed up for a reality show, which meant showing you guys inside our lives, the good, the bad and the ugly.
Elite Daily reached out to Khloé's team for further comment on her Sunday afternoon tweets, but did not hear back at the time of publication.
It appears that Khloé knows it's going to be a rough ride watching such an emotional time play back nearly seven months after the reports surfaced, but she acknowledged that she "signed up" to show "the good, the bad and the ugly." Seriously, KoKo is such a trooper.
That wasn't all Khloé had to say about the tough episode set to air. She also alluded to the fact that she's learned from this difficult situation. She said, in part, "...I also hope that with every trail, tribulation and curve ball life throws at us, that we ALL get to learn from our journeys."
Through it all, Khloé still found the positive in her Sunday afternoon tweet session, when she opened up about how she was "blessed with the ultimate gift, [her] sweet baby True..."
I'm sure it makes all Khloé fans happy to know how much love and happiness True has brought into Khloé's life, especially during these difficult times. I mean, just look at this sweet mother-daughter moment that Khloé shared on her Instagram, following a recent trip to Bali.
After opening up to her fans on Twitter, Khloé offered some advice in a tweet caption with a preview for Sunday night's episode. She said, "Remember that you are never alone in your pain, and that everything is temporary ... Be grateful for the experiences that continue to build character, and make you who you are."
Clearly, this episode in which all of the Kardashian-Jenners find out about the reported cheating will be tough to watch for everyone, but obviously Khloé knows already that it will be especially difficult for her. On the bright side, though, you might get a look at how this family comes together to support one another in even the toughest of times. You'll have to tune in Sunday night to see how it all goes down, but I wouldn't count on Khloé tweeting throughout as normal (for good reason). Keep your head up, KoKo!