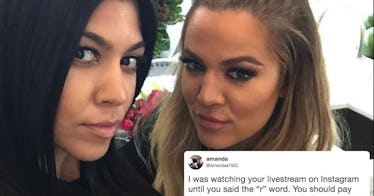 Khloé K Called Kourtney The R-Word & Her Apology When Fans Got Pissed Was So Mature
Instagram/KourtneyKardash
Khloé Kardashian shares a whole lot of her private life with fans via social media. And sometimes, that means she's sharing her mishaps as well as her successes. On Friday, July 20, Kardashian live streamed a get-together with her sister Kourtney Kardashian on Instagram and, in the video, both used an offensive word that had fans reeling. When called out, Kardashian was ready to own up to it. Khloé Kardashian's response to backlash over saying the r-word is a perfect example of how to check yourself when you've done something wrong.
The Instagram Live video, in which Khloé and Kourtney squabble over how to join each other's Instagram Lives and call each other the r-word because they both don't know how, has since been deleted from Kardashian's Instagram account, but it was later re-uploaded to YouTube for all the world to see.
One fan tweeted Kardashian to let her know that she didn't appreciate the Keeping Up with the Kardashians star using that specific word. By using Kardashian's daughter True as an example, the fan explained why the use of the r-word is unacceptable.
"I was watching your livestream on Instagram until you said the "r" word," the fan wrote. "You should pay more attention to your word choices especially since you have a huge following&don't know who you could be offending. If True had a disability you would use a different word. @khloekardashian"
This fan made some very valid points in her tweet and Kardashian was more than ready to listen. She tweeted the fan right back with an apology.
"Ugh I hate that word! Why did I even say that?" Kardashian wrote. "You are a million percent right and I actually greatly dislike when people use that word! I will do better! I am sorry! 😞 much love today."
It's great to see Kardashian owning up to her mistake and letting fans know that she's going to work on doing better. It's an important step in acknowledging how to navigate sensitive conversations as well as certain types of privilege.
Even Kardashian's fans are impressed with how well and how quickly she handled the situation.
"That is how you apologize. Own your mistake, no excuses, apologize, and do better," one fan said.
Another responded, "Amen! Too bad more people cant recognize when they are wrong & apologize. It's so refreshing to see."
And yet another fan even went as far as to say that this particular Kardashian was her favorite of all the famous names in the clan. "I love how you own up and apologize! You are my favorites Kardashian and this is a prime example as to why! Blessings to you and baby True!" the fan wrote.
Not everyone was happy with Kardashian, though. One person on Twitter said, "The last ounce of respect I had for the Kardashians went out the door when Khloe used the 'R' word on her Instagram. Sorry, can't relate to your ignorance."
While it's impossible to please everyone, Kardashian seems genuinely sorry for her use of the r-word. Hopefully, she'll keep her word and refrain from using it in the future. This whole thing really is a lesson for everyone to be more careful about how they choose their words, no matter the context of the conversation!