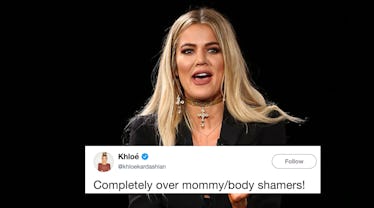 Khloé K Clapped Back At Mommy-Shamers Policing Her Body With A Message About Positivity
Joe Scarnici/Getty Images Entertainment/Getty Images
One of my favorite things in the whole world is when Khloé Kardashian goes to bat for body positivity. Ever since the birth of her daughter, True, she's been combatting some serious trolls on everything from her parenting decisions to her post-baby body and it looks like she's finally had enough. Khloé Kardashian's message to mommy-shamers policing her body is just one of my favorite clapbacks she's delivered in her short time as a new mom. Plus, it resonates with me even though I'm not a mother, because guess what? Loving your body is hard and comparing yourself to other people sucks. I'll take a little self-love motivation wherever I can get it!
Kardashian was already under the microscope this week for taking the night "off" to attend a City of Hope charity event. Haters were wondering where her daughter was while she was out, and the answer was really simple. Her father was watching her. Since then, the trolls haven't let up. Kardashian jumped on Twitter on Tuesday, July 31, to make her message loud and clear for mommy-shamers and fans to hear. She tweeted:
Completely over mommy/body shamers! Women who choose 2take their time after baby, I'm so proud of you! Women who choose to work out after baby, I'm so proud of you! We all must do what's best for US! Please b kind 2urself! A happy mommy makes for a happy baby! Love your process
Love. Your. Process.
Kardashian added how hard we tend to be on ourselves and reminded everyone everywhere they're amazing and worthy. She wrote:
We are so hard on ourselves Please be patient and gentle with your journey. Don't compare yours to anyone else's. You are right where you need to be! You are amazing!! You are worthy!!!
This self-love mantra is a staple of Kardashian's and something that's helped drive her independent business ventures, too. I mean, let's be real. She hosts a show called Revenge Body, created a clothing brand designed for all body types, and once wrote a book called Strong Looks Better Naked. Regarding her clothing brand, Good American, Kardashian was recently quoted saying, "It blows my mind to think that the average woman in America is a size 16 and that no one is catering to her."
Dude, thank you.
However, Kardashian isn't immune to mistakes, either. Khloé and her sisters are currently catching heat for praising their sister Kim Kardashian for being "so skinny" in a new video. Khloé even says how "voluptuous" Kim looks but that she appears "anorexic" around her waist (and this was meant as a compliment). Of course, this is the exact kind of problematic language Khloé usually tries to battle. So it was definitely disappointing for fans to hear.
Personally, I think this continuous open dialogue about health, wellness, self-acceptance, and self-love is one of the best aspects of Kardashian's social media presence. It would be understandable if she made the decision to lay low for a bit and remove herself from the social zeitgeist with the year she's having. From what I hear, becoming a new mom is hard enough when you aren't a huge celebrity under endless scrutiny with a boyfriend who allegedly cheated on you for the whole world to see.
I say keep the good stuff coming, mama, and thank you for the endless encouragement! You are amazing and worthy!
Check out the entire Gen Why series and other videos on Facebook and the Bustle app across Apple TV, Roku, and Amazon Fire TV.