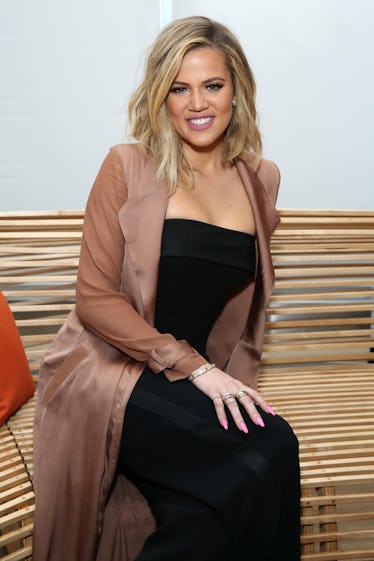 Khloé Kardashian Is Wearing A New Diamond Ring, But It's Not What You Think
Cindy Ord/Getty Images Entertainment/Getty Images
Khloé Kardashian is loving her new life as a mom. Since giving birth to her daughter True just three months ago, she's been talking non-stop about how much she enjoys motherhood. And now she's sharing a little something else with fans: a new custom-made diamond ring that highlights how important being a mom is to her. Khloé Kardashian's diamond ring, which she showed off on Instagram, is a very sweet tribute to her daughter
Kardashian posted a short video to her Instagram story in which she not only wears her new ring, but flexes her fingers to show how genuinely beautiful it is. The diamond-encrusted ring bears her daughter's name, True, in all caps and was reportedly a gift from her friend Malika Haqq.
She captioned the photo, "@forevermalika," indicating that Haqq had given her the beautiful ring.
Over the last few months, Kardashian has found plenty of ways to show her love of motherhood — from posting personal anecdotes on her app to sharing Snapchat videos of her daughter. But this ring really exemplifies how much being a mommy means to her.
It seems that, for now, this diamond ring will have to do for fans who are eagerly awaiting another piece of jewelry: an engagement ring. While fans may be anticipating news that Kardashian and longtime boyfriend Tristan Thompson have gotten engaged, that doesn't seem to be in the cards at the moment.
Here's a look at Kardashian's new diamond ring:
The couple is still very much on the mend from Thompson's alleged cheating scandal, which was reported by The Daily Mail back in April 2018.
Even family friend Lisa Stanley says Kardashian and Thompson are still working through some issues.
In an interview with KIIS FM's Celeb HQ, Stanley revealed that Kardashian and Thompson are seeking resolutions in couples therapy.
"One thousand percent they are working through couples therapy," Stanley said. "She's working hard, he's working hard. You can't just earn trust back in two months."
Stanley also said that Kardashian's family is not exactly happy with the situation.
"If Kris and the family had it their way, she probably would be leaving," Stanley revealed. "They're not okay with this. This guy not only cheated on her, it was on video and the world saw it. And she was humiliated. But she's choosing to stay."
So, it sounds like marriage is not on the table just yet for Kardashian and Thompson. And that's totally OK. It's important for them to work through whatever issues they're having, so they know with 100 percent certainty that they want to stay together.
What is on the table for this couple, though, is parenthood. Now that they've brought little True into the world, their lives seem totally dedicated to her, as is evidenced by Kardashian's new diamond ring and her endless social media posts about the little one. In fact, she's even given the world a glimpse into what Thompson is like as a father via Snapchat. All in all, they're a really sweet family that seems to genuinely care about each other.