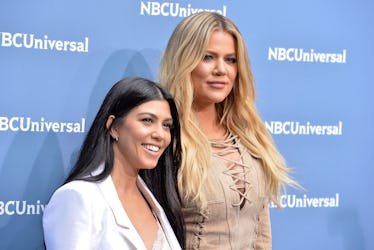 Khloé K Just Apologized To Kourtney For The Most New-Mom Reason
Slaven Vlasic/Getty Images Entertainment/Getty Images
Khloé Kardashian has been a mom for only five months and she's already learning that being a parent isn't always as easy as it seems. In a new report from Us Weekly, Khloé admitted that she wasn't always sympathetic to her older sister Kourtney for her mom-like ways. And now, she wants to repent. Khloé Kardashian's apology to Kourtney is so mature and shows just how much she respects her sister's parenting skills.
In a recent chat with Us Weekly, Khloé admitted that she's coping with motherhood in the most un-glamorous way possible. Khloé is mom to 5-month-old True Thompson and, if her Instagram is anything to go by, she seems to be loving every second of it. But that doesn't mean she doesn't have super busy days, like the one she detailed for Us Weekly.
"I'm still in my pajamas right now, I've been up since five, I have not had a second to even change my clothes," Khloé told Us Weekly recently. "I haven't even washed my face, my morning has been so crazy."
The Keeping Up with the Kardashians star then revealed that she once used to tease her sister Kourtney for being such a mom.
"I feel bad that I used to call Kourtney and be like, 'Oh, God. You look so Mom,'" Khloé admitted. "I feel bad that I used to do that. I'm gonna apologize to Kourt."
Kourtney is mom to three young kids. There's Mason, who is 8, Penelope, who is 6, and Reign, who is 3. So, she definitely has her hands full with mommy duties. Given that Kourtney is such a busy mom, it's great that Khloé is coming to realize how intense being a parent can be. And what a nice gesture to offer an apology for some of her past mommy-shaming comments.
Aside from being on mommy duty, Khloé is giving the fashion world a lot to talk about. As co-founder of the clothing line Good American, Khloé was happy to dish about some new developments the brand is making. She told Us Weekly that Good American is expanding their size range to include size 15 jeans.
"We figured there's such a difference in the body shape from a size 14 to a 16," she told the magazine. "One of our own head designers is actually a size 15. She would always take denim and tailor it down, so we just decided to make this size and it's a really requested size range."
So, it sounds like Khloé and Good American are making strides toward being more size-inclusive. That's not all the brand is doing, though.
Good American also makes stylish denim options for expectant moms who are struggling to find fashionable maternity options. The jeans, which are labeled Good Mama, feature waist bands that stretch to accommodate growing bellies. The jeans are so comfortable that Khloé relied on them throughout her pregnancy.
"For me, I wasn't comfortable with my body and putting on denim was such a daunting thought," she told Us Weekly. "Those were my go-to after baby for the first two months. Now, I'm into a high-waisted skinny!"
All in all, it sounds like Khloé is really in her element as a mom and as Good American co-founder.