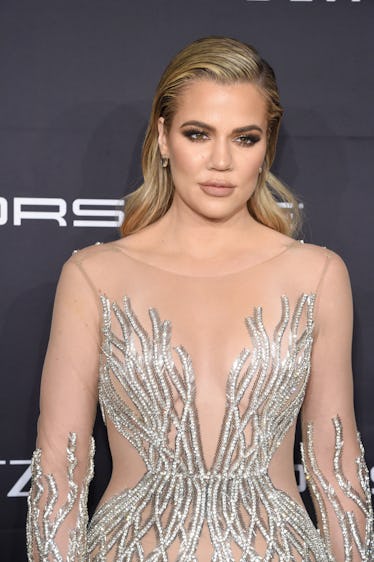 Khloé Kardashian Shared The First Look At Her Daughter & It's Precious
Jamie McCarthy/Getty Images Entertainment/Getty Images
Khloé Kardashian and Tristan Thompson have yet to reveal their daughter to the world, but that (kind of) changed on May 10 when Khloé Kardashian shared a photo of True Thompson on her Snapchat. Before you get too excited about this photo, just know that it's literally the tiniest glimpse in the world, but hey, it's better than nothing! Kardashian had posted two videos to her Snapchat story on May 10 that showed her talking about how happy she was that she got to work out for the first time since giving birth. She said she was excited to work on her "mind, body, and soul" and make them all stronger. She then posted two selfies using one of Snapchat's new filters, and you can see baby True's arm on the lefthand side of the shot.
While it's the tiniest look at the baby and it doesn't show her face at all, this is a good sign that might mean Kardashian and Thompson are almost ready to debut True to the world. Tristan Thompson also gave a rare interview on May 9 where he talked a little about what little True looks like, so it seems like Kardashian and Thompson are slowly but surely getting ready to reveal the first photo of their daughter's face.
Here's the first look at baby True Thompson:
Tristan Thompson did a rare interview that aired on May 9 on UNINTERRUPTED's Road Trippin' podcast. In the interview, he revealed a bit of what his daughter looks like, and True Thompson apparently has Khloé Kardashian's green eyes! Thompson said, "She's doing good. Baby True is eating, sleeping and, uh, sh*ttin'. That's all they do," adding that she was born 21 inches long with a full head of hair and green eyes like her mama. Between this interview and Kardashian's Snapchats with True, fans should gear up to see the first full photo of True Thompson soon.
A hilarious moment happened on Kardashian's Snapchat (and then Twitter) on May 10. In the aforementioned video where she talked about being excited to get back into an exercise routine, she also mentioned that True was officially one month old. This confused some fans, seeing as all of the reports of True's birth said she was born on April 12, not April 10.
Kardashian even made a big post on her app that called "All About True." The post's description says "Baby True is going to be one month old on Thursday!" (May 10).
One fan tweeted at Kardashian asking, "I thought she was 1 month on 12th May?!"
Kardashian quoted the tweet and gave her hilarious reaction that is a classic new mom move.
She said, "Guess what... until this tweet I thought it was the 12th the entire day lol. So, technically you are right. Lol I'm so immersed in feedings, sleeping and diapers -REPEAT!! Wow lol ok so we have two days." Oh, Khloé. You say the darnedest things.
Despite the fact that Kardashian's post commemorating her daughter's one-month mark was two days early, the post did reveal a lot of sweet things about little True. It read, "Baby True is going to be a month old on Thursday!" LOL, no she's not.
She continued,
So far, she's so incredibly sweet and patient — really not fussy at all. I can tell she's going to be super athletic and incredibly strong! She's very calm, peaceful and loves to cuddle with her parents.
Thompson also revealed in his interview on the Road Trippin' podcast how having a daughter is different from having a son for him. (He has a 1-year-old son, Prince Thompson, from a previous relationship.) He said,
I think with a girl, you're just so much more emotionally like... With a boy, it's just like, 'Hey, man. You'll be alright, man. Stop crying.' But [with True], it's like, 'True, it's gonna be OK. You know, we're right here. Daddy's here to feed you. It's me! Look, yeah!' It's way different, but it's fun, though. It changes you.
Great, now just show us the baby!!