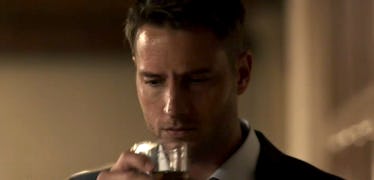 Kevin's Addiction On 'This Is Us' Gets Much Worse & It's Heartbreaking To Watch
NBC
Another week, another new low for the newly downward spiraling Kevin Pearson. Tuesday night's new episode of This Is Us finally showed us the disastrous, cringe-inducing effects of Kevin's recent struggles with addiction, and it looks like things are just going to be getting a lot worse for Pearson family golden child before they get better. Episode 5 of This Is Us, called "Brothers," clearly showed Kevin's sad descent into addiction, and how it is affected everyone around him.
Spoiler alert: Don't read on if you haven't watched Episode 5 of This Is Us Season 2 yet. As all viewers have been picking up on for the last few episodes, Kevin's storyline this season is focusing on the shocking revelation that Kevin may actually have a lot more in common with his father, Jack, than anyone knew... and no, not in a good way. After Kevin broke his leg on the set of his new movie with Sylvester Stallone, he turned to painkillers to fight through the pain and get back to work. The downside was that the painkillers seemed to work so well that Kevin couldn't stop using them, coupled with his family history of addiction and how a traumatic leg injury had already ruined his life once before when it cost him the chance to continue his football career into college.
But we didn't see the real troubling effects of Kevin's pill addiction until this new episode. We already got clues that it was going to be a rough one when the episode opened on Kevin angrily shaking an empty pill bottle in his bathroom and calling up a doctor to beg for a refill, and things only got worse after his girlfriend Sophie convinced him to be one of the bachelor's in her charity gala. Kevin agreed to attend, but was actually so hung up on trying to get his prescription refilled that he spent the whole time on his phone, and eventually settled for getting wasted on bourbon and totally missing Sophie's cue for him to come on stage.
One especially telling moment came when Kevin was drunk in the corridors of the gala and had a quick conversation with Randall, who was attending as well at the request of his newly adopted daughter Deja — she happens to be a big fan of Kevin's show The Manny. Anyway, Kevin looks visibly red, sweaty, and puffy as he kind of slurs his words when talking to Randall, but Randall has too much to deal with at that moment after Deja ran away from him to hide out in the bathroom. But before leaving Kevin behind to get Deja, Randall does manage to give his brother one very concerned look.
Kevin's downfall just continues, as he finally finds his way back to Sophie after the whole event had already ended, and utters the worst three words he could have possibly said: "What'd I miss?" Of course, the two get into a fight, and it looks like Kevin's addiction may cost him his relationship in this season as well. After all, Kevin does end up wandering the streets alone, calling up an old doctor on his phone to try to get more Vicodin. Yeah... not a good sign for the future.
To make the storyline that much more painful, the flashback portion of the episode revolves around the death of Kevin's grandfather, Jack's dad. He was also an alcoholic, and his addiction drove such a stake between himself and his family that Jack didn't even react when Rebecca called to tell him that his father was dying. Let's just hope Kevin can follow in the footsteps we've been seeing Jack take this season on the road to recovery.