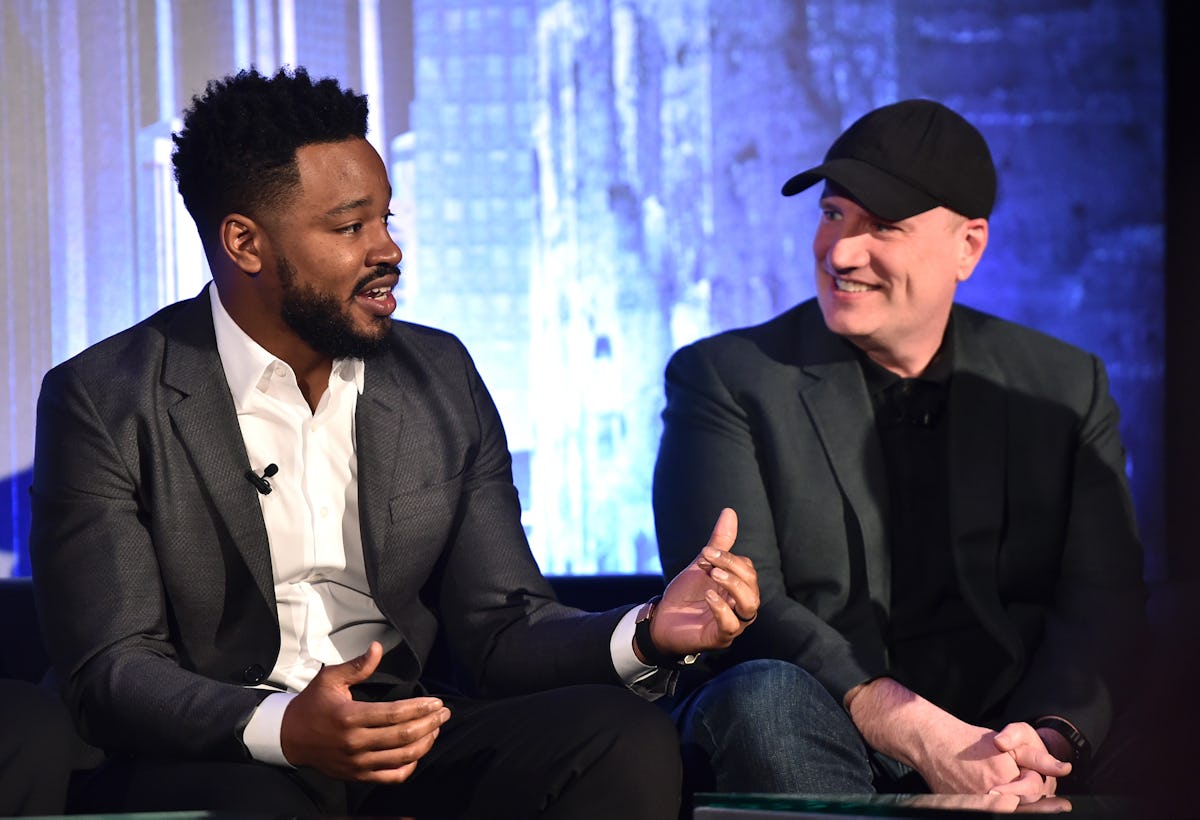 The President Of Marvel Just Gave Details About A 'Black Panther' Sequel & We're Screaming
Alberto E. Rodriguez/Getty Images Entertainment/Getty Images
With Black Panther's opening weekend box office numbers tracking to crack the top ten movie openings of all time, fans are already starting to look ahead to the what should be an inevitable sequel. But can the success of the first be replicated? Will Ryan Coogler and Chadwick Boseman want to do another one? With the Disney-20th Century FOX merger bringing aboard a slew of new characters to the Marvel Cinematic Universe, will there be room for a Black Panther sequel in Phase IV?
If current MCU head Kevin Feige has much to say about it, it sounds like a sequel is definitely happening. The man who runs this section of the Disney franchise universe is very aware of the historic nature of this standalone film. Speaking to Variety this week, he said it dawned on him last fall at CinemaCon, where they screened an early cut of the movie.
[W]e were doing something that people had been waiting their entire lives to see. That was something that a white male that grew up in the United States can take for granted. And you don't take that for granted anymore. Everyone deserves to see themselves reflected on that silver screen and the inspiration that comes from it.
That being said, before this realization dawned on Feige, Black Panther was a character the MCU was building towards. As Feige puts it: "We always knew it was the manifest destiny of Marvel Studios to bring to life all facets of the Marvel universe." That includes that Black Panther, which has had a recent renaissance on the page with authors like Ta-Nehisi Coates and Roxanne Gay taking their turns telling his stories.
The series has been seeding in the existence of Wakanda and Vibranium since Iron Man 2, before the first Avengers film even hit. But they might not have brought him in as early as Phase III if it hadn't been for the need for a "neutral" character in Captain America: Civil War to stand between Steve Rogers and Tony Stark.
Our executive producer suggested T'Challa. The minute we started talking about Black Panther, we brought up Chadwick. He really was the only actor we discussed. We had seen the Jackie Robinson role [in 42] and Get On Up was coming up. We were very impressed by how different James Brown and Jackie Robinson are, and how he could sort of do anything. I think it was 24 hours between saying his name in a creative story meeting and talking to his agent and getting on a phone with him and offering him the role of Black Panther, which he accepted.
Once the character was on screen and out there, it was merely a matter of finding a director and getting him his own feature film. But even so, no one considered that Black Panther would be anything more than any of the other secondary character standalone films, like say Ant-Man, or the first two Thor films. That is, until CinemaCon.
Now that the film is here, the question is, when will the next one come? Feige has never been that forthcoming about sequels, insisting that "it's all about the story" they're trying to tell and not greenlighting the sequel first and finding the story later.
We always say we work on one movie at a time. If you have any good ideas, put it in the movie you're making. If you don't, you might not be able to make another one. That said, Panther has been around for more than half a century in the comic books and there are many, many stories to tell.
As for Ryan Coogler coming back to direct a sequel? Feige is direct: "I hope so." Does he want him to come back? "Absolutely." Fans hope they agree.
Black Panther opens everywhere on Friday, Feb. 16, 2018.