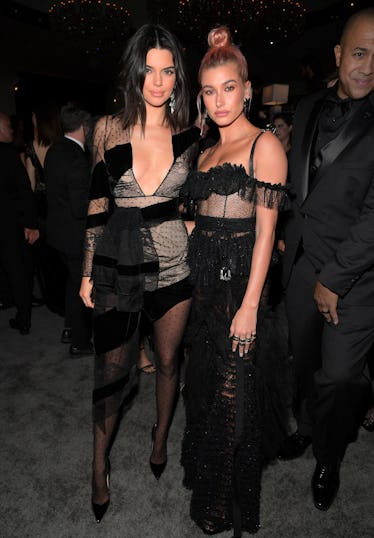 Kendall Jenner Just Broke Her Silence On Hailey Baldwin's Engagement To Justin Bieber
Charley Gallay/Getty Images Entertainment/Getty Images
Kendall Jenner is just as sweet as you think she'd be. And because life is just that unfair, the drop-dead gorgeous supermodel is a pretty good friend to have by your side, too. Like, can't she do something wrong? Apparently not. Because when the 22-year-old Keeping Up With The Kardashians star dropped by The Tonight Show on Sept. 6, host Jimmy Fallon asked her about the recent pairing of two of her good friends, and Kendall Jenner's reaction to Justin Bieber and Hailey Baldwin's engagement was just so perfect that it makes me want to be a better human. Seriously, you guys, she so was full of love and light and totally in her feelings that it was an amazing thing to watch.
So here's how the whole discush went down:
"Are you happy [Hailey] and Justin Bieber are engaged?" Jimmy asked.
"Yeah," Jenner responded with a big smile. "Whatever makes them happy, I'm happy. I've been friends with both of them for a very long time. So everybody's happy, and that makes me happy."
Could that response be any cuter? Watch this clip and you'll see just how freaking adorable and excited Jenner is for her besties.
Pretty amazing — especially since the Biebs was once rumored to be dating Jenner's sister Kourtney Kardashian back in 2016. Ah, the good old days, right? Now I'm just over here tryin' to figure out if Kourt is getting back together with ex Younes Bendjima or not. And, like, why didn't you ask Jenner about that Jimmy? WHY?! Although, IMHO, a reunion between those two seems about as likely as one between Kim Kardashian and Kris Humphries, so let's just move on now, mmmkay?
Fallon did ask Jenner about her secret ability to high-kick a beer bottle off someone's head, which is so much cooler than my secret ability to shuffle cards like a boss. And, like, of course it is. Because she's Kendall Freaking Jenner and she's legit perfect.
Anyway, here's the story behind the epic party trick (but please don't try this at home, kids).
"So it was my friend's birthday, we rented a house in Malibu, and I had some tequila," the model explained. "You know when you get a little bit drunk and you have superpowers? Anything and everything is possible. I don't think I have any skill. It could have been the height, but it was probably the tequila that made this possible."
Pretty sure those long legs of hers had something to do with it, too. Watch:
So impressive, right? What a total ninja queen! But sadly, Kung Fu Kenny declined to perform the trick on the show after falling in her bathroom while trying to practice. So, I guess she really is human after all.
Meanwhile, Fallon later congratulated Aunt Kendall on her three beautiful new nieces: True Thompson, Stormi Webster, and Chicago West. And because he's, you know, Jimmy Fallon, he then asked her to pick a favorite.
"No one has to know," the host promised. "This won't go anywhere."
"I won't name names," Jenner responded. Then she leaned over to Jimmy and whispered behind her hand "I'll tell you later."
I don't know about you guys, but my money's totally on Stormi.