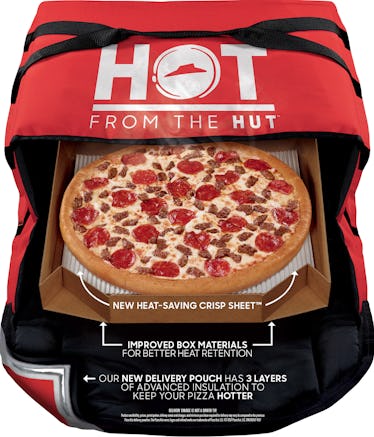 Your Pizza Hut Pie Is About To Be Even Hotter Upon Delivery, Thanks To New Pouches
Have you ever ordered a pizza from your favorite pizza place and noticed that when your pie arrived, it was cold and kind of undesirable? We all know this is a less-than-ideal situation, and Pizza Hut is making sure you never have to go through that again, all thanks to their new delivery system. Keeping your pizza delivery hot will be so much easier with Pizza Hut's new delivery pouches.
The new pizza pouches are made using 3M™ Thinsulate™, which is described as an insulation that is "lightweight" yet "powerful." The new technology — which is being called "Oven Hot Delivery System" — promises to keep your pizza nice and hot until it arrives at your location.
The "Hot Oven Delivery System" features a new delivery pouch with three different layers of insulation (similar to those found in winter jackets). The new and improved pouch also works to keep your 'za 15 degrees hotter while traveling from the store to your door. This is thanks to the re-engineered box and crisp sheet inserts.
Vice President of Marketing at Pizza Hut, Zipporah Allen, is excited about their new technology and said,
What consumers want more than anything else is a hot pizza, which is why we couldn't be more excited about the system we have developed to make sure we serve a hot, crispy and craveable Pizza Hut pizza every time. This is just another way that Pizza Hut is making it easier for pizza fans to get a better pizza.
If you thought Pizza Hut was launching this new product alone, you were wrong. The Hut is also debuting their very trendy — and very practical — Pizza Parka. The Pizza Parka is made from the same material as the new pizza pouch, and it counts on a ton of hilarious features.
One of the parka's most useful features is it's Pizza Pocket — which is just a triangle-shaped pocket that can be used for pizza storage. The parka also offers it's wearer a pocket perfect to fit parmesan and pepper flake packets. Aside from the silly features, the parka is also weather resistant, has a warm lining, and has heated seams. See the parka in action, below.
Wait, the parka also has a napkin gate and a cell phone holder? This is legit the Swiss army knife of parkas! Allen also gloated about the new parkas, saying,
What better way to showcase how hot our new delivery system keeps our pizzas than outfitting some of our biggest fans with a winter parka made from the same materials? The Pizza Parka is going to keep the lucky recipients hot in the same cold-weather elements that our pizzas often endure on the delivery trip from our restaurants to their front doors.
To get the pizza parka, you will have to place your pizza order using the Pizza Hut app or on PizzaHut.com. Once you order, you are automatically entered for a chance to have a parka delivered along with your order. If you want to increase your chances of receiving a parka, you can also tweet a pizza and flame emoji to @PizzaHut for a chance to get a parka with no purchase.
You can only get a parka during October, which is National Pizza Month. I personally love getting free merch along with my food order, so I will be ordering Pizza Hut a lot this month. You will also be up-to-date on your food, thanks to a new algorithm Pizza Hut put in place. The new algorithm promises to factor in variables like weather, traffic, and construction.
Check out the entire Gen Why series and other videos on Facebook and the Bustle app across Apple TV, Roku, and Amazon Fire TV.