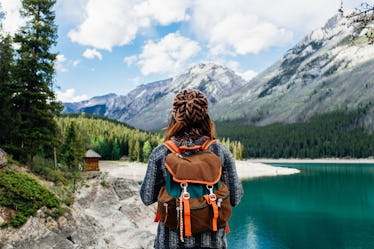 Kayak's Newest Flight Tool Will Save You Big Bucks On Your Next Vacation
Stocksy/Kristen Curette Hines
When the wanderlust hits hard, I've come to realize that the most stressful part of planning a trip isn't figuring out which 'Gram-worthy sights I want to see. The deeply unsexy truth is that travel can be expensive, and — like it or not — the first thing on many people's minds is how they can make the most of their tropical getaway or scenic retreat without breaking the bank on airfare. That's where Kayak's new Flight Hacker Guide comes in. The airfare tool is launching with a handful of features specifically targeted toward financially-savvy travelers. Trust me, this hacker is going to make it so much cheaper to check items off your bucket list.
According to press materials from Kayak, the cost of airfare is reportedly at its lowest in August, which means there's never been a better time to start planning that dream vacay. Enter Kayak's Flight Hacker Guide, which debuted on Wednesday, Aug. 22 and promises to provide all budget-minded individuals with the cheapest times to fly, price trends by destination, and more, all free of charge. You'll definitely want to check out these travel hacks. TBH, who doesn't want to save money on airfare?
Personally, booking a flight without overspending on flight costs tops my list, because it directly impacts how much I have left over to make the most of my time "OOO." I was most excited about the Flight Hacker Guide's "When To Book" section, which details the median costs by month, how far in advance you should be booking your flight, and how costs differ from one location to another during the year.
For example, I was able to see that it's cheapest to fly from Chicago to Amsterdam in January or February, so I should wait until early 2019 if I'm planning a trip across the pond.
Kayak also calculates price trends by destination, which is something I haven't seen with a lot of guides. If you're flexible about deciding where you want to go, you can search with your closest airport to see which destinations have the most affordable flights.
Kayak's new Flight Hacker Guide also offers a few other ways to shave significant bucks from your airfare cost. If you're looking to check two places off your travel list, check out the site's list of best stopover cities — Lisbon, Toronto, and Reykjavik stand out. While using this feature, you'll also get advice on which airlines can help you get the most bang for your buck and how to squeeze in a few activities in your stopover city if you only have a few hours to kill.
Another way to save? It sounds counterintuitive, but you can help your wallet by booking two one-way tickets instead of a round trip. According to Kayak, you can save up to 16 percent by pulling this move, especially to locations like Florence, Bangkok, and Prague. Just check out its "Hacker Fares" section as well as its list of the best destinations in the United States and abroad to try this on.
I know it's a lot to take in, but this Kayak's Flight Hacker Guide will give you so much peace of mind when you finally land in your dream destination. Plus, once you've raked in all the savings on airfare, let Kayak do the hard work for you with its Travel Hacker Tool, which includes top picks for things to do and the most wallet-friendly trips. Literally all you have to worry about is drafting the perfect "OOO" email and living your best life. Happy travels!