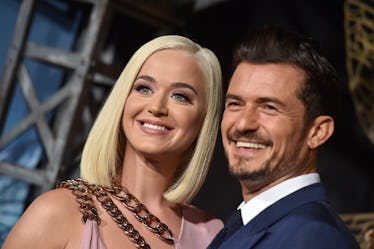 Don't Cry, But Katy & Orlando Are Reportedly Postponing Their Wedding
Axelle/Bauer-Griffin/FilmMagic/Getty Images
I hate to be the bearer of bad news here, but Katy Perry and Orlando Bloom are reportedly postponing their wedding— for the second time this year. While the couple was apparently set to marry in December, a source claims to Us Weekly that the A-listers have changed their plans. "They changed the timing due to the location they want," an insider reportedly told Us Weekly on Dec. 4. Fending off doubts, the source reportedly insisted that Bloom and Perry are "beyond in love" and are apparently having a blast planning their wedding — so maybe there's no real trouble in paradise.
Similarly to Justin Bieber and Hailey Baldwin and Nick Jonas and Priyanka Chopra, Bloom and Perry may be planning multiple celebrations of their love. "They're going to have one local wedding party, and the other will be a destination wedding party," the source reportedly shared.
However, this isn't the first time that Perry and Bloom have slowed their journey to matrimonial bliss. Three months after getting engaged on Valentine's Day 2019, Perry shared that she had put a temporary pause on planning on their wedding. "We're taking things one step at a time," she explained during an appearance on Kiss FM, adding that she wants to make sure they have a strong "emotional foundation" before walking down the aisle.
It wasn't until June that the couple reportedly started diving into wedding plans again. "They are both so busy that they now set aside down time to plan all the personal details," a source reportedly told Entertainment Tonight on June 27. "They are both on the same page about making their wedding a little different. They want it to be modern and exciting."
The nuptials aren't the only thing on Bloom and Perry's minds, either. The couple apparently wants to start a family together in the near future. "Katy wants to have her first kid soon after they get married," the source also reportedly told Us Weekly.
No matter when these two lovebirds tie the knot, the celebration is sure to be as iconic as they are.