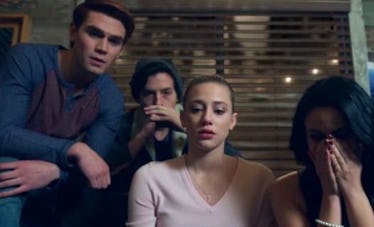 One Of Your Fave Stars Almost Played Betty On 'Riverdale,' But It's A Good Thing She Didn't
CW
Here's some what-could-have-been casting news I never saw coming. Lili Reinhart, who portrays Betty Cooper to pony-tailed perfection, was up against another current TV star for the Riverdale role. According to recent remarks from Camila Mendes, Katherine Langford almost played Betty Riverdale. The actress behind Veronica Lodge revealed to EW that she spent time with Katherine, who starred in 13 Reasons Why for its first two seasons as Hannah Baker, during the audition process for the CW hit.
"I remember when I met her, too — I never saw her act, but some people just have a personality that's so genuine that I'm like, 'I feel like you're a really good actor.' They have a presence. I had that feeling with her," Mendes said of Langford. "It's just so funny to think about that time in my life. I would have never thought in that moment that I would be here, and that she would be where she is. It's crazy!"
Both performers have obviously come a long way since those fateful tryouts. Riverdale is still one of TV's hottest shows and although Langford's departed Netflix's popular 13 Reasons Why, she recently signed on to headline the streaming service's upcoming fantasy series Cursed.
It's clear Lili, Camila, and Katherine's professional lives have all gone in positive directions. Each actress seems tailor made for the respective roles they ended up thriving in. Picturing things working out any other way seems inconceivable.
Another surprising actress who was up for the Betty Cooper job? Madeleine Petsch, aka Riverdale's Cheryl Blossom, actually originally auditioned for the gig. The red-haired talent shared the mind-blowing revelation during a YouTube Q&A in 2017, saying,
I initially auditioned for Legends of Tomorrow, and I then got called in the same day for a producer session for that guest [role]. From there, I came in three days later for producers for Betty.
"I'm pretty sure they always knew they wanted me for Cheryl; then, four months later, I came in for Cheryl!" she added.
In addition to that jaw-dropper, Cole Sprouse has previously divulged that he was tapped to portray Archie instead of Jughead. Yeah — let that possibility settle in.
"I'd been sent the audition for Archie and I'd read one of the auditioning scenes," Sprouse said on Popcorn With Peter Travers last year. "And he was talking to his best friend Jughead, who he'd kind of had a falling out with. And I loved the character."
13 Reasons Why also has its own surprising casting past. Selena Gomez serves as an executive producer on the series, but she was supposed to play Hannah Baker before opting out of on-screen participation in the project. Katherine Langford read for both Hannah and Jessica. Alisha Boe landed the part of Jessica and the rest became TV history.
"Luckily I think my high school experience was far better than Hannah Baker's, but I think she's a character that goes through so many things that I feel like all of us have felt," Langford has said of the character that helped skyrocket her career.
Man, Riverdale and 13 Reasons Why as viewers know them could have looked so different.
Season 3 of Riverdale premieres Wednesday, Oct. 10 at 8 p.m. ET on the CW.