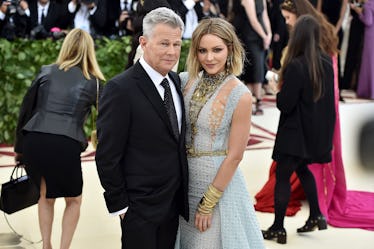 Katharine McPhee & David Foster's Body Language Shows Their Love Was A Long Time Coming
Theo Wargo/Getty Images Entertainment/Getty Images
There really must be something in the Hollywood water, right? Seriously, all of the recently announced celebrity engagements make it seem like anyone who isn't engaged is slipping behind. So, looking a little deeper into these relationships is key to understanding them. For instance, Katharine McPhee and David Foster's body language proves that they're totally in love, and their relationship and engagement actually makes a lot of sense.
Now, McPhee and Foster are both fairly private when it comes to their personal lives. In fact, neither one has actually said all that much about the other, or about their relationship. So, I enlisted the help of body language expert, and author of The Power of Body Language, The YES Factor and The Body Language of Dating, Tonya Reiman to break down McPhee's and Foster's body language with each other. Hopefully, we can at least try and make sense of everything that's been going on between the two and their whirlwind romance.
The way their relationship unfolded is actually pretty interesting. For starters, the two met back way back in 2006 when Foster was a mentor on American Idol and McPhee was a contestant. After that, reports of them dating didn't appear until 2017, when they were spotted at dinner together. Later in 2017, Foster's daughter referred to McPhee as her "stepmom." McPhee announced their engagement on Twitter on July 3, and Foster did the same with a sweet Instagram pic of the two. So, what does McPhee and Foster's body language say about their relationship?