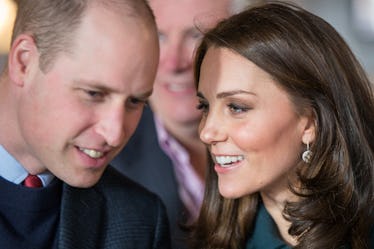 Kate Middleton's Reaction To Prince William's Obsession With Motorcycles Is So Relatable
WPA Pool/Getty Images Entertainment/Getty Images
Listen, just because you're part of the British monarchy doesn't mean you can't have ANY fun. Just ask Prince William, Duke of Cambridge, who recently spent a whole day admiring the heck out of motorcycles... because he can and because he loves them! And Kate Middleton, Duchess of Cambridge, isn't exactly enthusiastic about her husband's passion. Actually, Kate Middleton's reaction to Prince William's obsession with motorcycles is hilarious and relatable.
On Wednesday, June 6, Prince William flew to the Isle of Man to attend one of the most famous motorsport races in the world. And he was loving every last second of it. The prince himself is a huge proponent of motorbikes and motorsports. He owns and rides a Ducati, which has left his wife, Kate, absolutely shaking with fear.
Back in 2015, Kate said she was "terrified" of Prince William riding his motorcycle:
He's still riding it. It always fills me with horror when he goes out on it. I'm terrified. Hopefully, I'm going to keep Prince George off it.
Despite Kate's protests, Prince William is all about feeding into his love of motorsports. While in the Isle of Man, the Duke of Cambridge played up his love of motorsports for the camera. He was smiling a whole lot and seemed to be having loads of fun. He was like a little kid in a candy store! Too bad Kate isn't into it. They could totally be the motorsport power couple of the United Kingdom!
Alas, it's not meant to be. The world will just have to settle for these photos of Prince William serving up a big, cheesy grin over the motorcycles on display.
I mean, look at him:
He is loving every bit of this:
The guy couldn't be happier:
Why is Kate not sharing in this fun-filled day? Look at the unabashed joy spreading across his face!
It's actually kind of funny how much Prince William loves this little hobby in spite of how much Kate detests it.
While fawning over the bikes, Prince William did speak about Kate a little bit. When asked by the Isle of Man's minister for enterprise, Laurence Skelly, what Kate thought of the whole thing, William explained: "When I said I was going to the Isle of Man for an official visit she said, 'Really?'"
Yikes. Kate's a tough lady. She's standing her ground on this one. And, honestly, I don't blame her one bit. If you're not careful, motorcycles can be scary and dangerous. But I'm sure Prince William has been well trained in how to ride one. So, Kate probably has nothing to worry about!
This isn't the first time Prince William has showed his undying love for motorcycles. Back in March 2018, the famed prince took to the streets of his beloved London to ride into the night. The Duke was reportedly on his way to play a bit of soccer with friends at a nearby playing field. And while he was in complete motorsport gear as he rode to the field, he shed his riding armor once he hit the green.
Clearly, Kate's fear of motorsports isn't enough to stop Prince William from fulfilling his passion. If he wants to ride a Ducati (which can reach speeds of up to 130 miles per hour), then he's going to do it! Can't say I fault him for that. Royal life is stiff enough as it is. Let the man have some freedom every once in a while. He deserves it.
Plus, it's fun for the rest of the world to pretend the royals are just like everyone else. And a passion for motorcycles certainly makes Prince William seem just like any other normal dude!