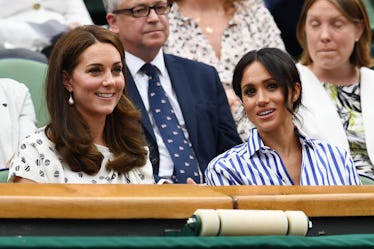 Kate Middleton Just Opened Up About Meghan Markle's Pregnancy In The Sweetest Way
Clive Mason/Getty Images Entertainment/Getty Images
You probably know by now that Prince Harry and Meghan Markle are expecting a bundle of joy next spring. And while the happy couple and all their supporters are incredibly excited about the new baby, lots of people have been wondering how the rest of the royal family feels. Well, judging by Kate Middleton's reaction to Meghan Markle's pregnancy, one can assume that everyone is just as excited as Meghan herself!
In a video shared by Harry_Meghan_Updates on Instagram from William and Kate's visit to Leicester University on Wednesday, Nov. 28, Kate is seen answering fan questions about the royal family, her children, and Meghan's pregnancy. When asked how Prince George, Princess Charlotte, and Princess Louis are doing, Kate had a lot to say.
"They're doing well, thank you," Kate said. "They're getting excited for Christmas time, because they've started all their Christmas songs and the Christmas trees are going up. And Louis's getting bigger, I can't believe he's like seven months, he's getting to be a big boy."
When Kate moved on down the line to greet other fans, one person asked if she was excited about Harry and Meghan's growing family.
"Absolutely! It's such a special time to have little kiddies," she said. "And a cousin for George and Charlotte, as well, and Louis. It'll be really special."
Check out Kate's comments down below:
Kate's comments about Meghan's pregnancy come just a day after reports surfaced that the two Duchesses aren't always on the same page. According to a Nov. 27 report from The Daily Telegraph, the duchesses don't always see eye to eye because "they are very different women, despite their similar circumstances. Meghan is extrovert [sic], whereas Kate is quite shy."
As if that wasn't enough, Vanity Fair also reported that there's some tension between Prince Harry and Prince William and that Kate and Meghan are trying to make an effort to get along.
"Kate and Meghan are very different people and they don't have a lot in common but they have made an effort to get along," the source said. "Any issues are between the brothers."
According to Vanity Fair, there was a fallout between the brothers last Christmas because Harry felt William wasn't doing enough to welcome Meghan into the fold.
"Harry felt William wasn't rolling out the red carpet for Meghan and told him so," a source for Vanity Fair revealed. "They had a bit of a fall out which was only resolved when Charles stepped in and asked William to make an effort. That's when the Cambridges invited the Sussexes to spend Christmas with them."
But who knows if any of these "sources" are actually telling the truth? By the sound of Kate's sheer excitement over the thought of Harry and Meghan's future baby, it seems like it's all love between the royals from where I'm standing.
But if there is some stuff going on behind the scenes that might prove difficult for the royals, hopefully they can all move past whatever's troubling them and ease all that tension once and for all.