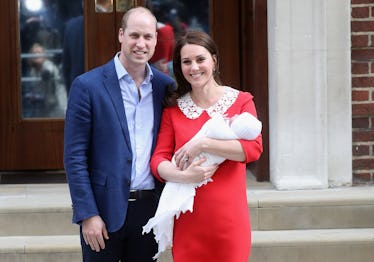 Kate Middleton Wrote A Sweet Letter About Her Family & I'm Sobbing
Chris Jackson/Getty Images Entertainment/Getty Images
Does a family get any more picture perfect than Prince William and Kate Middleton's? I doubt it. In April, The Duke and Duchess of Cambridge welcomed the newest child, Prince Louis, into the world, and Kate Middleton's letter about her family proves that she couldn't be any happier. I'm so happy for them I could cry, y'all.
On May 23, Kate Middleton wrote a heartfelt letter about her family life in honor of Children's Hospice Week. In the letter, Middleton discusses the importance of spending time with her family and cherishing every little moment.
"Spending quality time together is such an important aspect of family life and for me, as a mother, it is the simple family moments like playing outside together that I cherish," Middleton wrote.
Also in the letter, Middleton shares the importance of Children's Hospice Week, and urges the public to spread positivity around the world during this special time. Middelton has been a patron of East Anglia's Children Hospices since 2012, and praised them for their relentless work to provide care and support for charities across the U.K.
"By supporting Children's Hospice Week, we can help them spread joy and positivity across the UK, encouraging everyone to make the most of moments that matter," Middelton wrote.
According to E! News, East Anglia's Children Hospital is one of the first royal fundings Middleton took on after marrying Prince William in 2011. Since, the duchess has consistently worked hard to ensure the best for the hospital. In 2012, she opened a "treehouse" center for the hospice, and campaigned to open a children's hospice in Norfolk, U.K. It's safe to say that this duchess is the perfect spokesperson for such an amazing cause.
I don't know about y'all, but I cannot get enough of this royal family. Since Prince William and Kate Middleton tied the knot in 2011, I've been obsessed with watching their family grow. Lucky for me, I've had plenty to celebrate over the years. In July 2013, the couple welcomed their first child, Prince George, into the world, and he truly is the cutest thing I've ever laid my eyes on. Then, in May 2015, Princess Charlotte was born to make this threesome a foursome. Just when I thought this family couldn't get any more perfect, I was proven wrong. In April, Middleton gave birth to their youngest son, Prince Louis, and I must say this family is totally complete now.
Just look at them. Why am I crying in the club right now.
It's really no surprise that Prince William and Kate Middleton would have the perfect family. After all, this couple's story is reminiscent of an actual fairytale. In November 2010, the two sat down with BBC's Tom Brady to talk about their relationship, and Prince William revealed the exact moment when he knew Middleton was "the one."
He said,
When I first met Kate I knew there was something very special about her and then I knew that there was something that I possibly wanted to explore there, but we ended up being friends for a while and that was a good foundation. And over the years I knew things were getting better and better. It's really easy being with each other.
Oh, you crazy kids. Even though the Duke and Duchess of Cambridge may not be super lovey-dovey on a daily basis, it's so obvious that there's a huge amount of love between them.
I'm not sure if this royal family fever will ever stop for me. To be honest, I'm fine with that. Since Prince Harry and Meghan Markle actually said "I do" on May 19, I can't wait and see if there will be any more royal babies gracing our presence in the upcoming future.
Weddings may be fleeting, but family is definitely forever.