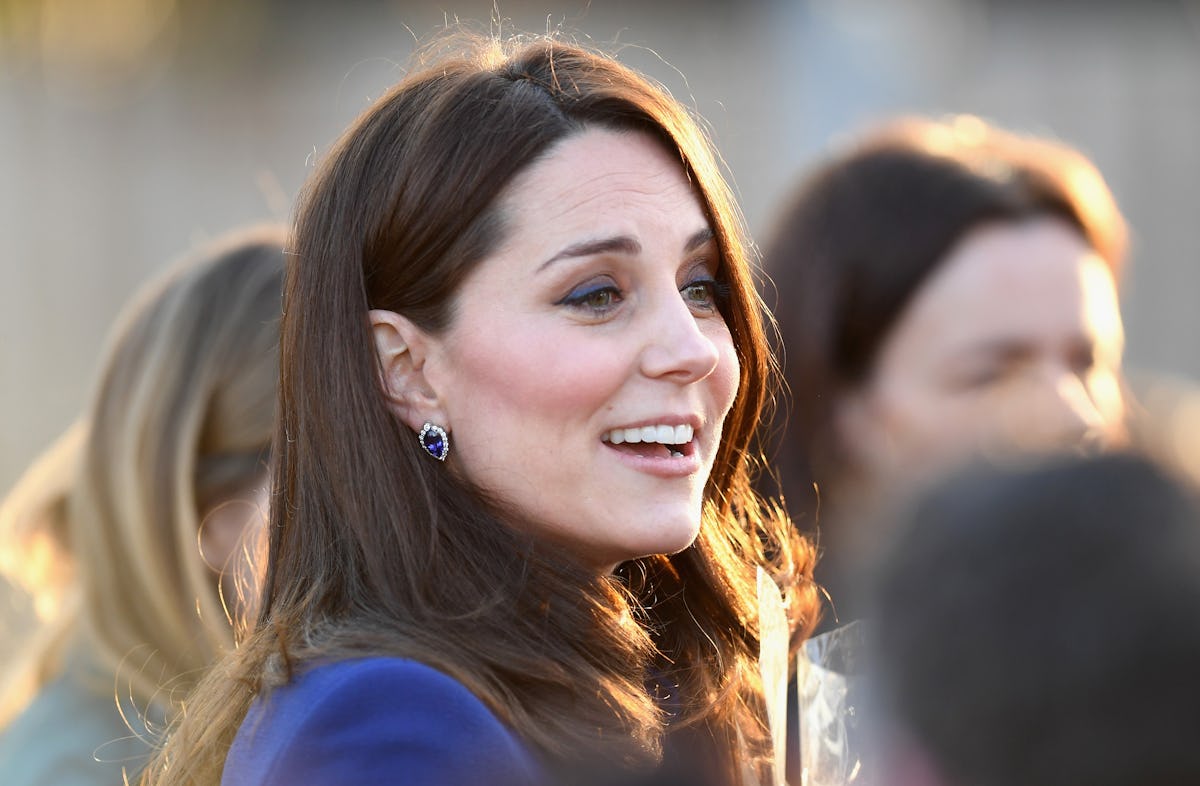 Kate Middleton's BAFTAs Dress Stood Out From The Crowd, & There's A Reason
Stuart C. Wilson/Getty Images Entertainment/Getty Images
Awards season this year is truly special, because the spotlight this time around is on female empowerment and combatting sexual abuse and harassment — not just in Hollywood, but in every industry and ever crevice of our society. The #TimesUp movement has taken film and television world by storm, and if you're not wearing black or making a statement at your red carpet event you're pretty much doing it wrong. But one very prominent individual chose not to (technically) protest, and I'm a little surprised by the decision. Kate Middleton didn't wear black at the BAFTAs — but before you go bashing her, there's a pretty real reason as to why the Duchess of Cambridge chose not to dress in the unofficial awards season dress code.
Awards season is always one of my favorite times of the year. I absolutely live for the red carpet glamour and glitz — not to mention just the sheer joy of seeing my favorite actors, directors, and entertainment industry professionals being awarded for their accomplishments. But this year the awards circuit is especially important. Men and women in Hollywood have made a clear stand against the the toleration of sexual abuse that has gone on for far too long, both in the entertainment industry and beyond.
And in protest, many women (and men) have decided to adopt an all-black dress code when attending certain awards shows. Wearing the same color as a unit demonstrates solidarity with the victims of sexual assault that have come out and shared their stories. But one prominent woman made headlines for doing the opposite, and choosing not to wear black to the British Academy Film Awards, otherwise known as the BAFTAs, on Feb. 18. Kate Middleton, Duchess of Cambridge, was one such BAFTA attendee that decided to not wear black. She decided to wear a dark green Jenny Packham dress in lieu of black, but it still wasn't a black dress and people definitely took notice.
Instead of donning black, Kate Middleton decided to wear a dark green dress to the BAFTAs.
It stood in stark contrast to the many women wearing black in support of the Time's Up movement.
In solidarity with Time's Up, celebrities have opted to wear black on red carpets to represent their support for this movement. So it was a major surprise that one of the world's most recognizable faces — Kate Middleton — decided to not wear black.
But there is a significant reason why Middleton didn't wear black. Because she's married into the royal family, there is a rule that states that as a royal you cannot make an overt political statement. So if you are familiar with royal protocol, Middleton's decision to not wear black is not that surprising.
Also unsurprising, this decision to wear dark green instead of black sparked some controversy on social media. Despite the fact that Middleton isn't allowed to make a political statement, many people raised the question of whether or not Time's Up can be considered a political movement, as opposed to just a humanitarian one. The answer to that question? To be honest, we're not quite sure.
Although Middleton was as stunning as ever, there were some Twitter users that were critical of her decision to not wear black at the BAFTA Awards.
But others were sympathetic to Middleton obeying her duty as a British royal.
If you recall, the Time's Up movement is responsible for a major shift in the social discourse of our current time. The movement sends a clear message to all those individuals in power who have abused their influence over others for their own sexual gains that enough is enough. Logistically, Time's Up raises legal defense funds for all women (and men) who have felt scared or discouraged to bring their abusers to justice, allowing victims to share their truth and bring their abusers to justice.
So although it was not expected of Middleton to wear black tonight, it's still a bit disappointing to her fans that she didn't end up choosing to stand for this movement. Being a member of the royal family is a lot of pressure though, so I think we can give the Duchess a bit of a break here. Maybe under her future rule as queen, things will change.